VIA – SANTA CRUZ SENTINEL


Gretchen Wegrich, Stoked and Broke: Ventana Surfboard Co. a green splinter in Santa Cruz's chemical surfboard industry
Gretchen Wegrich
Posted: 08/17/2011 03:15:47 PM PDT
For a tribe with the reputation of being at one with mother nature, when it comes to equipment, surfers' environmental report card has several embarrassing flaws when it comes to equipment. But, while building a standard polyurethane surfboard creates a Lorax's nightmare of carcinogens and volatile inorganic compounds, Santa Cruz's homegrown Ventana Surfboard Company is branching out. Like the Solana Beach-based Moss Research Sustainable Surfboards, it is moving in a more environmentally friendly direction.
"Surfing relies on healthy and vibrant environments but our industry standards are hypocritical to those values," said Jake Moss, founder of Solana Beach-based Moss Research Sustainable Surfboards.
With an eye on the high-performance market, Moss switched all of his production to his signature Moss Eco-Flex boards in January. The process uses post consumer plastic waste, natural fibers, bamboo, plywood and bamboo off-cut waste and non-volatile organic compound resin.
"If we continue to manufacture and support outdated practices and irresponsible business models… creating disposable, non-recyclable plastic items, then we will have done ourselves in and succumbed to corporate and consumer philosophy instead of surfer philosophy," Moss said, stressing the importance for surfers to continue searching for more environmentally friendly and sustainable surfboards.
A chip off the old block
As splinter groups go, hollow wood surfboard
makers Martijn Stiphout and Tyler Frome are taking the path less traveled. A few hundred miles North of Moss Research Sustainable Surfboards, the two CSU Monterey Bay marine bio graduates are using the same surfer philosophy to build a different kind of surfboard.
These Santa Cruz transplants have brought their unique skill set to a unobtrusive garage on the northern fringe of the Mission Street Extension, where they spend their days crafting wood surfboards, handplanes, sunburst-patterned fins and even the odd ping pong paddle. The orderly shop smells of sawdust. Nearby, finished surfboards rest on a rack, their shiny wood exteriors reflecting the afternoon sunlight in shades ranging from deep burgundy to pale blond.
Several of Ventana Surfboard Company's converts were once wandering West Side farmers market attendees, who stumbled upon the shop and were drawn in by the classic surf tunes spilling from the radio and the flawless wood boards that Stiphout inlays with iridescent shards of abalone.
Stiphout, who was raised in South Africa, learned the art of woodworking from his father. Stiphout has been working with wood for half his life, using his hands and a few tools to craft everything from jewelry to boats.
Frome's easygoing demeanor belies his experience as a shaper of polyurethane boards.
"Once I rode a wood board, I realized that it's the way to go," Frome said. "When you take everything into perspective, the weight of the board, the shape, all this stuff…it all just equals fun."
Stiphout and Frome founded Ventana Surfboard Co. in January 2011. Inspired by their passion for surfing, the ocean and the environment, the duo made a conscious choice to avoid toxic foam and polystyrene.
But the inspiration for Ventana Surfboard Co., says Stiphout, was purely practical.
"I broke my foam board and needed something else. There was nothing spiritual or deep behind it, in all honesty. I knew how to work with wood, I knew I could build a board, figured well maybe I could build something that actually worked. And then I built the first one and was like, 'okay, this is kinda cool.'"
Reuse, Recycle, repurpose
Since opening Ventana Surfboard Company, Stiphout and Frome have found their calling, working with their hands to craft one-of-a-kind surfboards from recycled wood materials, especially local redwood.
In the shop, several salvaged fence boards lean up against a wall. Frome pulls a particularly aged, scuffed and unimpressive piece of wood from the pile, then flips the board over, revealing the beautifully grained redwood hiding underneath.
The wood comes from occasional dump runs and, as word has spread, from random people who drop off potentially useful scrap wood, including, says Frome, "a Kiwi with a railroad tie." Stiphout and Frome craft boards from birch, cedar, poplar, agave and cork.
Using CAD design software, Stiphout and Frome design each board, then print out the templates. From these paper templates, plywood ribs are cut, over which strips of wood are laid to create the deck and underside of the board. Stiphout builds the rails from ding-resistant cork and agave. The boards are glassed in epoxy resin, which Stiphout says he hopes to convert to a more environmentally friendly resin in the future.
For the full story go here:
http://www.santacruzsentinel.com/sports/ci_18700809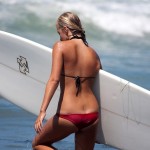 Become A Sponsor!
If you have a product or service that is a good fit for our surf community, we have opportunities for you to sponsor this blog!
Download our media kit now!