VIA – PACIFIC NEWS CENTER

NWS: Surf's Up to 14 Feet; High Surf, Small Craft Advisories Extended Until Friday 4pm
Last Updated on Monday, 29 August 2011 08:20 Written by Kevin Kerrigan Monday, 29 August 2011 07:42
Guam News – Guam News
Guam – As wave heights breaking against Guam's shores reach 14 feet, the National Weather Service has extended its High Surf and Small Craft Advisories for the Marinas through Friday at 4 pm.
The Weather Service says hazardous surf of between 10 and 14 is expected to last until Wednesday and then slowly decline through Friday, but it will still remain at hazardous heights.
For the full surf report:
http://www.pacificnewscenter.com/index.php?option=com_content&view=article&id=16624:nws-surfs-up-to-14-feet-high-surf-advisory-extended-until-friday-4pm&catid=45:guam-news&Itemid=156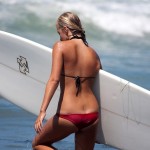 Become A Sponsor!
If you have a product or service that is a good fit for our surf community, we have opportunities for you to sponsor this blog!
Download our media kit now!