Makes me miss bows sooo much!
VIA – ALOHA UPDATE


More Photos from Massive South Swell at Bowls
September 14, 2011
Filed under: Surfing
Drew Wilkinson
The South Shore reefs of Oahu were bombarded by surf at the beginning of September. The same swell that slammed into Teahupoo for the Billabong Tahiti Pro made it's way to Hawaii and detonated south shore reefs.
Surf spots were maxing. Closeout sets were rolling through the channel at Ala Moana Bowls toppling the buoy. Castles was breaking nearly a mile out, and amidst the cleanup sets, there were waves that every surfer has dreamed of. The ones that have been drawn over and over on school notebooks, waves that light up your blood and fill it with adrenaline; hold you down and shake you to the reef. Intense drops and speedy lines were the norm.
For the whole story and all the great photos go here:
http://www.alohaupdate.com/2011/09/14/more-photos-from-massive-south-swell-at-bowls/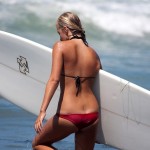 Become A Sponsor!
If you have a product or service that is a good fit for our surf community, we have opportunities for you to sponsor this blog!
Download our media kit now!