VIA – HAWAII NEWS NOW
Search underway for man believed to be in North Shore waters
Posted: Nov 17, 2011 10:21 AM EST Updated: Nov 17, 2011 12:08 PM EST
NORTH SHORE (HawaiiNewsNow) – The Honolulu Fire Department and Coast Guard are searching for a 51-year-old man who may have been surfing in waters off the North Shore Wednesday afternoon.
According to officials, the visiting man was staying at a friend's home on the North Shore for the past two weeks.
Authorities were alerted after the man did not show up for a meal at Haleiwa Joe's.
Officials say when the friend came home later that evening, the man's rental car and belongings were still there.
According to HFD, it is unknown if the man went into the water or where he may have went into the water. However, the man's surf board — which he borrowed from his friend — was later recovered after it washed up on shore.
The victim's friend says he was supposed to depart Hawaii for his home Wednesday night.
Officials say the man is an experienced off-shore swimmer who has competed in cold-water events off the Oregon coast.
Velzyland resident Derek McMillan says he's surprised that someone had trouble in the water on Wednesday because the conditions were approximately one to two footers.
Coast Guard crews began their search just before 10 p.m. Wednesday and are using an 87-foot patrol boat and Dolphin Helicopter.


HFD crews resumed their search Thursday at first light.
Honolulu police have opened a missing persons case and…
For the full article go here:
http://www.hawaiinewsnow.com/story/16064736/search-underway-for-surfer-in-north-shore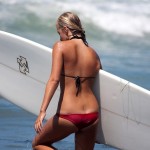 Become A Sponsor!
If you have a product or service that is a good fit for our surf community, we have opportunities for you to sponsor this blog!
Download our media kit now!