VIA – POST CRESCENT
7:26 PM, Feb. 25, 2012
Surfer, snorkeler drown in separate HI incidents
HONOLULU (WTW) — The waters off of Hawaii have claimed the lives of a Honolulu surfer and a Japanese tourist, while a second Japanese tourist is hospitalized in critical condition after being found at the bottom of a hotel pool.
The Honolulu Star Advertiser reports that (http://bit.ly/zgEInr ) Howard Hutchings, 47, drowned while surfing with friends at Rocky Point Lefts on Honolulu's North Shore Thursday.
After Hutchings was pulled from the water by other surfers, lifeguards tried to revive him by performing CPR, authorities said.
In a separate incident, authorities have released the name of a Japanese tourist who drowned during a snorkeling trip.
The Medical Examiner's Office says Ichiro Kawashima, 67, was snorkeling off a tour boat near the Heeia Kea pier when he drowned Tuesday.
Emergency crews met the tour boat when it returned to the pier, but Kawashima died at the scene, police said.
His death has been …
For more info:
http://www.postcrescent.com/usatoday/article/38662621?odyssey=mod|newswell|text|FRONTPAGE|s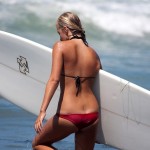 Become A Sponsor!
If you have a product or service that is a good fit for our surf community, we have opportunities for you to sponsor this blog!
Download our media kit now!