The brunt of the mayhem is expected early Tuesday
Updated Oct. 26, 2012, 5:37 p.m. EDT
Early in the morning on Oct. 25, the Suomi NPP satellite caught this image of Hurricane Sandy after it made landfall in Cuba. (NOAA/NASA)
WASHINGTON (AP) – When Hurricane Sandy becomes a hybrid weather monster some call "Frankenstorm" it will smack the East Coast harder and wider than last year's damaging Irene, forecasters said Friday.
The brunt of the weather mayhem will be concentrated where the hurricane comes ashore early Tuesday, but there will be hundreds of miles of steady, strong and damaging winds and rain for the entire Eastern region for several days, according to the National Oceanic and Atmospheric Administration.
RELATED ON SKYE: Sandy Leaves Bahamas After Killing 40 in Caribbean
The hurricane has killed at least 20 people in the Caribbean, and just left the Bahamas. It is expected to move north, just off the Eastern Seaboard.
As of Friday morning, federal forecasters were looking closer at the Delaware shore as the spot it will turn inland and merge with a wintry storm front. But there is a lot of room for error in the forecast and the storm could turn into shore closer to New York and New Jersey and bring the worst weather there.
RELATED ON SKYE: Funny Tweets About Not-so-Funny Frankenstorm

Wherever Sandy comes ashore will get 10 inches of rain and extreme storm surges, Louis Uccellini, NOAA's environmental prediction director, said in a Friday news conference. Other areas not directly on Sandy's entry path will still get 4 to 8 inches of rain, maybe more, he said. Up to 2 feet of snow should fall on West Virginia, with lighter snow in parts of Ohio and Pennsylvania, regardless of where Sandy first hits.
A wide swath of the East, measuring several hundreds of miles, will get persistent gale-force winds in the 50 mph area, with some areas closer to storm landfall getting closer to 70 mph, said James Franklin, forecast chief for the National Hurricane Center.
"It's going to be a long-lasting event, two to three days of impact for a lot of people," Franklin said. "Wind damage, widespread power outages, heavy rainfall, inland flooding and somebody is going to get a significant surge event."
That storm surge will only be magnified by the full moon this weekend to make it a "dangerous period," Uccellini said.
Last year's Hurricane Irene was a minimal hurricane that caused widespread damage as it moved north along the coast after making landfall in North Carolina. With catastrophic inland flooding in New Jersey, Massachusetts and Vermont, federal officials say Irene caused $15.8 billion in damage…
For the full article go here:
http://weather.aol.com/2012/10/26/historic-frankenstorm-threatens-east-coast/?icid=maing-grid7|maing9|dl2|sec1_lnk1%26pLid%3D226441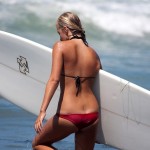 Become A Sponsor!
If you have a product or service that is a good fit for our surf community, we have opportunities for you to sponsor this blog!
Download our media kit now!