VIA – EXAMINER HAWAII


Honoring Duke Kahanamoku's birthday – Hawaii's most famous waterman
Ray Pendleton, Honolulu Boating Examiner
August 24, 2011
The term "waterman" can no more appropriately be used than when referring to Hawaii's legendary Duke Paoa Kahanamoku, who would be celebrating his 121st birthday today, Aug. 24, 2011. In recognition of the man and his life, the Outrigger Duke Kahanamoku Foundation kicks off its multi-day Duke's Oceanfest today on Waikiki's Kuhio Beach.
Over much of his life, from 1890 to 1968, and ever since his passing, Duke has been universally recognized as the father of modern surfing and outrigger paddling, as well as an outstanding Olympic swimming and diving champion.
It is perhaps less recognized, however that for many years of his adult life Duke was also an involved member of Honolulu's boating community.
"He had graduated from a surfboard to various kinds of sailing craft, including a catamaran, and finally a powerboat built to his specifications, called the Nadu K-2, a combination of his and (his wife) Nadine's names with a pleasant Hawaiian sound to it," Sandra Kimberley Hall wrote in her book "Duke – A Great Hawaiian."
Still Hall failed to mention that Duke had actually been involved in boating much earlier in his life as one of the founders of the Waikiki Yacht Club, as is documented in the booklet "Waikiki Yacht Club – The First 60 Years" by Michael E. Simpson.
"Duke Kahanamoku, as well as some of the former Pearl Harbor Yacht Club members, got interested (in creating a yacht club on the west shore of the Ala Wai basin) so they held an organizational meeting of the Waikiki Yacht Club on April 20, 1944," Simpson wrote.


There is little record of Duke's involvement with the club's operations over the years, however it is somewhat significant that in the end, he was on the grounds of the WYC when he collapsed and shortly died on January 22, 1968.
For the full article go here:
http://www.examiner.com/boating-in-honolulu/honoring-duke-kahanamoku-s-birthday-hawaii-s-most-famous-waterman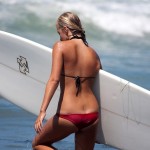 Become A Sponsor!
If you have a product or service that is a good fit for our surf community, we have opportunities for you to sponsor this blog!
Download our media kit now!