VIA – SHORE NEWS TODAY


Hundreds say farewell in 'surfer's burial'
Remembering Jack Davis
Written by Ann Richardson
Tuesday, 02 August 2011 11:11
He was a beloved husband, father, son, brother and friend to many, and a man of many passions.
John Henry "Jack" Davis III, waterman, surfer, golfer and car enthusiast, died suddenly on Saturday, July 23, while walking his dog. A senior mechanic for the Ocean City Department of Public Works, Davis was 56.
On Saturday morning, just after sunrise, a final tribute was offered as hundreds of friends and family members hosted a "surfer's burial at sea" on the 29th Street beach.
"Jack loved the ocean," said Richie "Dickie" Brinkman, pointing to the sea. "This was Jack's life."
Dozens of people, including his widow Valerie Vanderslice Davis and his son Jack IV, lined up along the shore, paddled out beyond the breaking waves, and formed a circle around a small surfboard covered with flowers. Following a silent prayer, mourners shared memories about Davis, splashed water in the air, and shouted "Jack" three times, loudly. They tossed flowers into the circle, then paddled back. One surfer took the flowers farther out to sea and brought back an empty board.
"This is great, Valerie out there with all of Jack's brothers and his sister, all of their friends," said Valerie's sister, Coco Lefkowitz. "It's just unbelievable, the effort that they put into this, to all come together and say goodbye.
"To have this, a send-off at the ocean is really neat. It's like being in God's hands."
Davis grew up in Somers Point and came to Ocean City when the surfing scene heated up. His father, John Davis Jr., was one of the first people to own a surfboard in New Jersey. Every Sunday, the Davis family – parents John and Betty and the kids, Jack, Jim, Donna and Jeffrey – would pack the station wagon and head to the beach.
"As we grew up, we all got surfboards," said James Davis. "Our grandfather was a commercial fisherman, we're all good watermen. Everyone in the family loves the water.
"He was my big brother Jack," he said. "He always looked over me. He was our big protector; he loved everyone and loved to laugh. Family was very important to him. I will love and miss him forever. He taught all of us so much."
"He was a phenomenal brother and role model," said Donna Davis Spicer. "He would have loved this outpouring of support. Everybody loved him. Jack was the best and Valerie was the love of his life; they were role models for the rest of us as parents."
Tara Vanderslice said Davis was the first "outlaw" to marry into the closeknit Vanderslice clan.
"He's been with our family for so long he's a brother," said Vanderslice. "He wasn't just 'Val's guy,' he was our guy."
Valerie met Davis when they were 19. "They were soul mates," said Vanderslice.
"Jack used to take us to see the lights at Christmas and get ice cream," said Lefkowitz. "He was so cool; inside that sometimes gruff exterior was a gentle giant. He was so tender. He was a softie. He was quiet, an observer of life but he connected really well one-on-one."
Davis was "extremely proud" to work for Ocean City.
"He worked so hard," she said. Davis could take anything apart, repair it and put it back together. "The whole police and fire department stopped in to pay their respects. Jack knew everyone who worked for the city."
"I continue to be amazed at the vast array of talents that Jack had," said Lefkowitz. "He built and restored old cars, he taught himself how to play the guitar, he went skeet-shooting and duck hunting, surfing and golfing. There was nothing he couldn't do or build. Maybe he was a ballerina too, for all I know. He did all of this while holding down two or three jobs."
Greg Beck said he met Davis through the late George Gerlach, who founded Surfer's Supplies.
"Jack was a lot of fun," he said. "He had such a colorful personality. He was especially enthusiastic about surfing and cars. He loved cars, which was good for me because I have an automobile neurosis. I always thought there was a problem, he'd take a look and say it was working fine or he'd fix it.
"Jack was addicted to cars," he said. "He always owned four of them, and his proudest possession was his '38 Chevy. I had the pleasure of working with him at the surf shop. One Memorial Day we worked together and he sold 13 out of 30 surfboards all by himself. He was so passionate, someone could walk in off the street and he'd sell 'em a board.
"He could buy as good as he could sell," said Beck. "He was a 'gear head,' he loved tools and parts, he traded his car in just about every week, he always had something different. He had lots of toys; that guy lived life to its fullest."
J.T. Toner owns a home near the Davis' vacation home in Kill Devil Hills, North Carolina.
For the full story and photos go here:
http://www.shorenewstoday.com/snt/news/index.php/ocean-city-mainmenu/ocean-city-general-news/14414–remembering-jack-davis-.html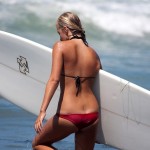 Become A Sponsor!
If you have a product or service that is a good fit for our surf community, we have opportunities for you to sponsor this blog!
Download our media kit now!