VIA – OC METRO

RETAIL INDUSTRY NEWS
Hurley launches art exhibit featuring boardshort-inspired designs
Costa Mesa-based Hurley unveils 'Prism Break,' featuring James 'Dalek' Marshall.
By Schardé VallonePublished: August 10, 2011 10:39 AM
The Hurley SPACE Gallery in Costa Mesa held the opening event of the "Prism Break" exhibit last weekend, featuring the artwork of Hurley staff artist James "Dalek" Marshall. The multi-dimensional display showcased work inspired by the design Dalek created for Hurley's Phantom 4D Boardshort, which was seen throughout the US Open of Surfing in Huntington Beach last week, according to the retailer.
In addition to Dalek's artwork and a display of the Phantom 4D Boardshorts, Hurley presented an exclusive product collection created by "friends and family" of the Hurley brand. This included five custom, hand-painted LDG bikes, custom surfboards, a limited edition Nike Air Max 90 sneaker and a Skullcandy Mix Master Mike headphone set, all bearing Dalek's design. Attendees were given "4D" glasses to boost their viewing experience of the multi-colored, floor-to-ceiling art exhibit.
"The viewer will feel the art all around them, almost as if being placed into Dalek's vision in his mind," said Jason Maloney, director of art at Hurley.
For the full story go here:
http://www.ocmetro.com/t-Hurley_launches_art_exhibit_featuring_boardshort_inspired_designs08102011.aspx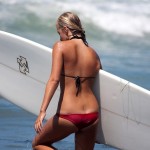 Become A Sponsor!
If you have a product or service that is a good fit for our surf community, we have opportunities for you to sponsor this blog!
Download our media kit now!