VIA – KLFM967
Hurricane Irene: 750,000 Told To Flee Homes
Officials in New Jersey have ordered a mandatory evacuation which could affect 750,000 people as Hurricane Irene looms.
The Philadelphia Inquirer said officials in Cape May county have told people to leave from 8am local time (1pm UK time) on Friday.
The hurricane – which has been battering the Bahamas – is expected to hit the north eastern seaboard of America this weekend.
It is predicted to hit North Carolina before working its way up the coast, with more than 50m people potentially in the path of the storm.
The mayor of New York, Michael Bloomberg, warned residents to expect tropical storm conditions.
Washington is also on alert for heavy storms.
Train services in the capital have been cancelled and workers are trying to protect power lines.
Mayor Vincent Gray took to his Twitter account to ask residents to study emergency evacuation routes.
Irene, a category three storm with winds of up to 120mph (195km) has already caused damage in the Bahamas, where there are reports of some homes being washed away.
Those who choose to ignore the mandatory evacuation order have been asked to place an ID card in their left shoe so they may be identified if necessary.
For video go here:
http://www.klfm967.co.uk/news/world-news/496365/hurricane-irene-750000-told-to-flee-homes/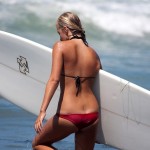 Become A Sponsor!
If you have a product or service that is a good fit for our surf community, we have opportunities for you to sponsor this blog!
Download our media kit now!