VIA – WASHINGTON POST


Hurricane Irene to slam Maryland shore; evacuations ordered in Ocean City
By Michael E. Ruane and William Branigin, Updated: Thursday, August 25, 5:01 PM
Hurricane Irene gathered strength Thursday as it churned north toward Washington, leading the governors of Maryland and Virginia to declare states of emergency and forcing officials in Ocean City to order residents to evacuate.
The hurricane, a Category 3 storm, blew past the Bahamas on a path projected to take it up the Eastern Seaboard. It was expected to dump several inches of rain on the area Saturday as it moves up the Atlantic Coast.
At a late afternoon news conference, Gov. Martin O'Malley (D) urged Marylanders in low-lying coastal flood zones to leave their homes this weekend and "stay with someone who loves them" as a "monster hurricane" approaches.
"This is a large, this is a deadly, this a slow-moving hurricane that is bearing down on the state of Maryland," O'Malley said after a briefing at the Maryland Emergency Management Agency in Reistertown.
The governor said he's been told to expect the epicenter of the storm to arrive just off the coast of Ocean City around 2 a.m. Sunday. He said the state is also supporting the mandatory evacuation order of the barrier island Ocean City — the first of its kind he can remember. O'Malley said 100 state troopers are being deployed to assist with the evacuation of Ocean City.
The governor said anticipates everything south of 17th Street in Ocean City to be under water at some point because of the storm surge.
As the storm approached, Virginia Gov. Robert F. McDonnell (R) declared a state of emergency, telling residents of low-lying areas in the eastern part of the state to be prepared to evacuate. State officials said eastern Virginia could be hit with flooding from both rain and storm surges and that winds could reach hurricane strength in Hampton Roads.
"Over the last 24 hours, a number of weather models have shifted the forecasted track of Irene slightly to the west, increasing the potential for inclement weather and potentially dangerous conditions in portions of Virginia,'' McDonnell said. "At this time, I encourage all Virginians to gather items they may need this weekend in case of power outages and disruptions in public services and to make sure their family members and friends are also prepared for this storm."
In Norfolk, the Navy ordered 64 ships based in southeastern Virginia to head to safer waters out in the Atlantic, where they can avoid the brunt of the hurricane and avoid damaging piers.
The National Hurricane Center said that at 11 a.m. Thursday, Irene was 645 miles south of Cape Hatteras, N.C., and packing sustained winds of up to 115 mph as it made its way northward. Hurricane-force winds extend outward up to 70 miles, it said.
For the full report go here:
http://www.washingtonpost.com/local/for-washington-area-first-an-earthquake-next-a-hurricane/2011/08/25/gIQAvgQrdJ_story.html?hpid=z1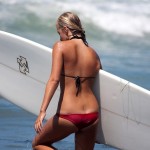 Become A Sponsor!
If you have a product or service that is a good fit for our surf community, we have opportunities for you to sponsor this blog!
Download our media kit now!