VIA – SCIENTIFIC AMERICA
By Darren Naish | February 18, 2012
We all love identifying – or, trying to identify – weird carcasses. Back in December 2011, marine biologist and world chiton expert Douglas Eernisse of the University of California (Santa Cruz) sent me the series of photos you see here and below. They show a smallish cetacean (total length about 3 m), found beached and in partly decomposed condition at Loreto, Baja California. A large damaged region on the animal's tailstock seemed to demonstrate death by collision with a boat.
For the full article and more photos go here:
http://blogs.scientificamerican.com/tetrapod-zoology/2012/02/18/identify-baja-california-mystery-whale-carcass/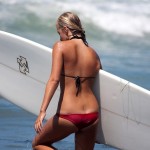 Become A Sponsor!
If you have a product or service that is a good fit for our surf community, we have opportunities for you to sponsor this blog!
Download our media kit now!