VIA – DAILY MAIL UK

'Idiot' surfer sparks huge rescue operation after abandoning kit at sea and swimming to shore when he got into trouble

By Mail On Sunday Reporter
Last updated at 10:09 PM on 19th November 2011
A kite surfer was branded 'an idiot' yesterday for causing a massive search mission after he abandoned his kit at sea when he got into difficulty.
The man, believed to be Russian, did not contact coastguards to say he had swum safely to shore on Friday afternoon. Instead he drove home, hoping he could return in daylight to retrieve the £1,500 kit.
Meanwhile the kite was spotted drifting in Poole Harbour, Dorset, prompting a rescue mission that involved dozens of people, including coastguards, RNLI lifeboats and a search helicopter.
Rescue mission: The search was launched after the surfer went missing in Poole, Dorset
At first light yesterday morning, more than 30 kite surfers, fishermen and kayakers turned out to join the search. Rescuers only realised the man was safe when he called a local watersports centre to ask if anyone had found his kite and surfboard – unaware of the search.
Kite surfer Chris Skone-Roberts, who helped to organise the search of the shoreline, said: 'Real worry has now turned into anger at this idiot.
'You absolutely cannot play around with a sport like this and pack up and go home when you get into difficulty.
'What annoys me is that the guys in the rescue…
For the full story go here:
http://www.dailymail.co.uk/news/article-2063723/Idiot-surfer-sparks-huge-rescue-operation-abandoning-kit-sea-swimming-shore-got-trouble.html?ito=feeds-newsxml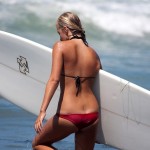 Become A Sponsor!
If you have a product or service that is a good fit for our surf community, we have opportunities for you to sponsor this blog!
Download our media kit now!