Thanks to the bros at Surfers Healing for sending this our way…cool stuff!
VIA – WECT
Great white shark spotted on Wrightsville Beach
Posted: Nov 29, 2011 9:23 PM EST Updated: Nov 29, 2011 10:46 PM EST
WRIGHTSVILLE BEACH, NC (WECT) – It wasn't a clip from "Jaws," or a scene from any movie when fishermen spotted a great white shark just off of the NC coast.
Matt Garrett, who is visiting from Boston, and some of his friends were on a routine fishing trip, just 25 miles from the coast of Wrightsville Beach.
He says the fish stopped biting, and then, they saw the fins – of a great white shark.
The men captured the sighting on camera.
One of the fishermen says the great white circled the boat for 20 minutes and even bumped into it.
"I [was thinking] it was two dolphins or something," said Garrett. "Two dolphins far apart…those two dolphins turn out to be one giant shark."
Garrett captured the video with his iPhone 4S he bought two weeks ago. The phone takes HD quality video, and he says the purchase paid off.
Paul Barrington of the NC Aquarium at Fort Fisher confirmed that it was indeed a great white Garrett came across. He says it's rare to see them off of NC's coast, but sightings do happen.
Still, they're hardly ever caught on tape.
Garrett and his friends did the right thing. They didn't harass it, and took advantage of the situation with some great video. That's something they will never forget.
For the full artcle go here:
http://www.wect.com/story/16149859/great-white-shark-spotted-on-wrightsville-beach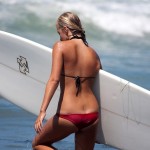 Become A Sponsor!
If you have a product or service that is a good fit for our surf community, we have opportunities for you to sponsor this blog!
Download our media kit now!