VIA – MONTEREY HERALD
Incubus frontman Brandon Boyd brings 'Art, Activism and the Ocean' to Monterey
By MARC CABRERA
Herald Staff Writer
Posted: 12/13/2011 01:29:37 AM PST
Updated: 12/13/2011 03:47:41 PM PST


Once upon a time, Incubus lead singer Brandon Boyd had his sights set on a career in oceanography.
"I grew up surfing, and even before I surfed, I had a fascination with the ocean," said the 35-year-old musician/artist, who dreamed of attending Scripps Institution of Oceanography at UC San Diego.
"I became much more fascinated with art and the artistic process," Boyd said. "I started painting and that sort of stuff and I got a little distracted toward my lofty goals of oceanography as a kid."
Boyd visits the Museum of Monterey on Thursday for the presentation "Art, Activism and the Ocean."
All pre-sale tickets are sold out, but limited space is available for museum members. For membership information, call 372-2608 or see www.MuseumofMonterey.org.
His work is on display as part of the Museum's "Flows to the Bay" exhibit. It includes a piece of a large mural Boyd created with the Hurley surf company, as well as sketches and prints from the project.
He teamed with Hurley to draw attention to the detrimental effects of plastic bottle water pollution. Boyd said the film "Tapped" about the multi-billion dollar bottled water industry was a particular eye-opener.
"I was alarmed by the plastic flowing around in the worlds gyres, especially in the Pacific gyre," said Boyd, referring to the giant garbage patch that has developed in a vortex in the North Pacific Ocean. "I started seeing images in my head, and when I see images in my head, it comes out in two-dimensional, almost child-like images."
Boyd will present a video documenting his work with Hurley. A film crew captured Boyd and …
For the full story go here:
http://www.montereyherald.com/local/ci_19535749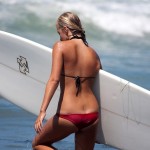 Become A Sponsor!
If you have a product or service that is a good fit for our surf community, we have opportunities for you to sponsor this blog!
Download our media kit now!