Good insight into the mindset of the champ…
VIA – WIDE WORLD OF SPORTS
Surfing champ Slater battles perfection
Will Swanton
14:39 AEST Tue Sep 6 2011
Kelly Slater is attempting to kill the perfectionist within.
"It drives me crazy but I really am," Slater told AAP before his opening heat of the $US1 million ($A950,000) Quiksilver Pro New York.
"I was really hard on myself when I was growing up.
"I put a lot of pressure on myself for good grades at school. My older brother didn't do great at school and my mum felt a bit let down.
"She'd get upset and I didn't want it to be the same with me."
Slater said he never enjoyed school but "figured I still had to try to do good".
"I spent a lot of time growing up really desiring acceptance from people and that was the start of the whole perfectionist thing," he said.
"It was tough to deal with as a teenager. And then I spent a lot of time in my 20s when I was never satisfied.
"That was part of my drive to compete and do well in contests, but it means you're never satisfied with what you have.
"I still have to really talk to myself about letting all that go. I still try to fight it."
Slater cannot set foot outside the surfers' hotel at Long Beach without being mobbed.
Visits to Times Square have attracted similar commotion. About 40,000 people swarmed upon the contest site yesterday at the end of the Labor Day weekend.
The days of Slater being anonymous in the US appear to be over but the 10-time world champion denied professional surfing's first event on the east coast was an attempt to catapult the sport into the mainstream.
"We are what we are," he said. "We're not mainstream and we don't want to be. Surfing is unique."
Slater leads the world rankings from South African Jordy Smith and Australia's Joel Parkinson.
Neither of those laid-back souls give Slater the intensity he felt against Andy Irons before his most fearsome rival died.
"Andy and I rarely surfed against each other – the rivalry was the idea of it, two highly driven people trying to get the same thing, world titles," Slater said.
"When there's that kind of feeling, you get to a certain point where you actually bond with that person.
"I specifically remember one conversation Andy and I had.
"He had had a few beers and he was all, 'The media, man, they just make this stuff up. I know how you feel about me, you know how I feel about you, nothing else matters.' But then we'd get in contest mode and his middle finger was up and he was ready to go.
For the full article go here:
http://wwos.ninemsn.com.au/article.aspx?id=8294964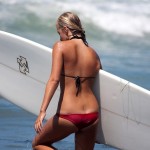 Become A Sponsor!
If you have a product or service that is a good fit for our surf community, we have opportunities for you to sponsor this blog!
Download our media kit now!