Japan and allies thwart South Atlantic Whale sanctuary at the IWC
By a vote of 38 in favour to 21 opposed, the South Atlantic Whale Sanctuary (SAWS) failed to meet the International Whaling Commission's (IWC) required 3/4 majority to pass and be established.
Greenpeace and a vast coalition of environmental groups were calling on the IWC to establish the sanctuary that would have protected Southern Hemisphere whales from commercial whaling for their entire lives. The sanctuary would have been the first conservation measure put in place by the IWC since the commercial whaling moratorium was put in place in 1986.
"The IWC remains stuck in the past. A minority of countries that support commercial whaling can thwart the overwhelming majority of conservation minded nations" said Phil Kline, Senior Oceans Campaigner for Greenpeace.
Despite being requested by all Latin American nations attending the meeting, the sanctuary was defeated by the votes of nations located well outside the proposed sanctuary, many of which have strong ties to Japan.
"All the bordering nations of the proposed sanctuary, African and South American, voted in favour of it. We were pleased to see the strong support for this sanctuary but disappointed that it was denied by a political process aimed at resuming commercial whaling" said Kline. "It's time the IWC is reformed to protect the whales, not the whalers".
Most of the whales in the Southern Hemisphere are highly migratory, feeding in the nutrient rich waters of the Antarctic before travelling to tropical waters to give birth. They then make the long migration back to their feeding grounds in the South. The sanctuary would have…
For the full article go here:
http://en.mercopress.com/2012/07/03/japan-and-allies-thwart-south-atlantic-whale-sanctuary-at-the-iwc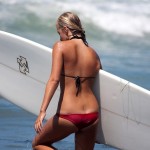 Become A Sponsor!
If you have a product or service that is a good fit for our surf community, we have opportunities for you to sponsor this blog!
Download our media kit now!