VIA – BODEGA BAY PRESS DEMOCRAT
Japan's tsunami trash is this Sonoma surfer's treasure
BY CHRIS SMITH/The Press Democrat
Sonoma Coast surfer and rock climber Darren Moffet thinks he may have found one of the first substantial pieces of Japanese tsunami debris to wash up in Northern California.
Darren Moffet and the Kirin beer crate he found on the Sonoma Coast.
It's a plastic, yellow Kirin beer crate imprinted with Japanese writing.
Moffet didn't simply pick it up off the sand. He said he used a rope to descend about 40 feet down a rugged seaside cliff a short distance south of Fort Ross.
Internet research has taught him that many such crates were swept away by the tsunami that ravaged the Kirin Brewing Co.'s plant in Sendai City in March of 2011.
Of course, Moffet, who lives near Windsor and works as a boat mechanic and carpenter, can't be sure the beer crate is tsunami debris. But his gut and research says it is.
"I'm pretty confident I found the real deal," he said.
As the PD's Bob Norberg reported last week, beach walkers have begun to watch for Japanese tsunami debris along the Sonoma Coast, but specialists with National Oceanic and Atmospheric Administration believe it's too soon for much debris to arrive here.
Moffet may never know for sure if the Kirin crate in his home is a tiny part of the millions of tons of personal possessions and property of all kinds washed into the Pacific by the earthquake and tsunami that killed  more than 15,000 people in Japan 16 months ago.
But he's satisfied it's a piece of history.
http://bodega.towns.pressdemocrat.com/2012/07/news/japans-tsunami-trash-is-this-sonoma-surfers-treasure/
For the original post go here: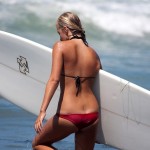 Become A Sponsor!
If you have a product or service that is a good fit for our surf community, we have opportunities for you to sponsor this blog!
Download our media kit now!