VIA – MERCURY NEWS
Jay Moriarity movie means business for motels, restaurants, surfboard shapers
By JONDI GUMZ – Santa Cruz Sentinel
Posted: 10/20/2011 05:25:21 PM PDT
Updated: 10/20/2011 05:36:57 PM PDT
SANTA CRUZ – Jahan Jaferian called 15 of his employees at 99 Bottles of Beer to work at 2 a.m. a week ago making 1,100 sandwiches to feed people who worked on the Jay Moriarity movie.
The Beach Street Inn & Suites employed three more people full-time to take care of rooms booked for the movie crew.
Bob Pearson and his crew at Arrow Surfboards are racing to build 138 custom surfboards to the specifications of actors in the film.
Those are just a few examples of how the Santa Cruz County economy is getting a shot in the arm from the filming "Of Men and Mavericks," which started last week.
Christina Glynn of the Santa Cruz County Conference and Visitors Council reports the movie cast and crew will book about 1,932 room nights before they depart.
Based on average daily room rates, that means more than $200,000 in revenue during the shoulder season, when traveler numbers shrink from the busy summer, and more than $20,000 in room tax revenue for the cities where those hotels and motels are located.
The boost comes on top of a stellar summer season. Hotel occupancy was the highest in four years, peaking at 77.6 percent in June, according to Smith Travel Research.
Pearson expects the production crew to stay in Santa Cruz through the end of the month, then head north to film at the famous Mavericks break near Half Moon Bay in November and December.
The crew took over his factory on the Eastside for a shoot, then did the same at Pleasure Point Pizza on Portola Avenue.
"Everybody's getting compensated financially," said Pearson. "I had a couple of customers come in and want to order, but in the middle of a scene, you can't talk. Most of these customers understand and it's OK. It's really good for our business. It's good for the whole Santa Cruz area."
Pearson is usually up by 5:30 or 6 a.m. but to get the movie work done, he's starting his day at 4 a.m. and sometimes not finishing until midnight.
The order for boards is complicated because each board is designed to fit a certain actor. Some are shortboards, some are longboards, some are designed specifically for the big waves at Mavericks.
Moviegoers will be able to pick out characters by watching the surfboards.
Jonny Weston, an accomplished surfer who plays Moriarity, will be seen with a board bearing a blue purple flame design while his mentor Frosty Hesson, played by Aussie hunk Gerard Butler, will sport reds and yellows.
"When Jay was riding, I made him hundreds of boards," Pearson said. "We had a Jay Moriarity model."
Pearson, who has a part in the film, has sat in on many script meetings and appreciates the director's interest in an accurate portrayal of Moriarity's story, a talented surfer who died in 2001, the day before his 23rd birthday.
"Jay had a lot of drama in his life," Pearson said. ""There's Jay and his wife, what a beautiful person he was, surfing giant waves. He was a person with passion. If you get that in a movie, people are going to love it."


Jaferian was thrilled to be selected for the catering gig because he knew Moriarity.
"He was a regular customer at 99 Bottles," Jaferian said. "He would come in all the time."
How did 99 Bottles get the gig?
Jaferian's employees had experience, serving 500 sandwiches to a crew for a film with Courteney Cox and David Arquette.
"Since we did a good job on the last movie, they called us," Jaferian said.
For the Morarity movie, Jaferian offered a menu of 10 sandwiches, from which three were picked: Portobello mushroom with Italian dressing, chicken and roasted turkey, all on ciabattas.
"We started a week to 10 days beforehand prepping," he said.
Workers got up while it was still dark to assemble the sandwiches, adding oranges from Watsonville Coast Produce and cookies from Grandma Dave's, a local food company.
Afterward, there were 120 sandwiches left over, which Jaferian decided to donate to the Rebele Homeless Shelter, which was having a party that evening.
"Mr. Rebele, the police chief and mayor were there," Jaferian said. "They were so happy to see us."
The movie crew booked 15 of the 40 rooms at the Beach Street Inn for 10 days, according to co-owner Chris Ferrante.
"Some are eating at the Picnic Basket, others eat on the set, and I have even seen some takeout Mexican food and such," she said.
"Some of the staff through crew were in on Saturday morning," said Zach Davis, co-owner of the Picnic Basket. "There's definitely been a lot of excitement and talk about the film amongst the patrons and one of our staff Chris Woolling, paddled out for the Jay memorial re-enactment on Friday."
New faces also have been spotted at New Leaf Community Market in Capitola, with rumors swirling about one of the actors being spotted there.
Local surfer Chris Chiechi-Radich got a thrill participating in the paddle-out listening to Butler yell out in his Australian accent, "Let's get this party started."
Carrie Birkhofer said the actor was willing to have his photo taken with her 17-year-old daughter, which made her day, and Bob Pearson took his daughter Kaila, a Cabrillo College water polo player, surfing with Butler and with Weston, the 22-year-old playing Moriarity.
The film crew's visit has other hotel operators brimming with excitement.
"We expect to see some results (when the movie comes out)," said Doug San Fillippo, director of sales at the Scotts Valley Hilton. "It's a good movie about Santa Cruz."
He said summer visitors stayed longer this year, attributing the change to marketing efforts by the Conference and Visitors Council funded by a new room fee.
"We really appreciate everything the CVC (Conference and Visitors Council) does to bring groups like this into our area," said Debbie Parsons, general manager of the Seacliff Inn in Aptos. "Unfortunately, or I guess fortunately, we were only able to accommodate a smaller portion of the group, 21 rooms of the 100 plus total needed, because of higher occupancy during the week and sold out weekends."
Glynn said summertime hotel occupancy was up 8 percent in Santa cruz compared to 5 percent statewide.
"While we're not quite back to pre-recession numbers, we do show incremental increases over summers '08, '09 and '10 so it appears we are turning a corner," she said.
The average daily room rate hovered around $115 this summer, higher than the past two years, but less than in 2008, when it was $125.
The Boardwalk had a good summer after a wet spring, according to marketing director Marq Lipton, who expects the Santa Cruz brand to get a boost from the film.
"I can't wait 'til the movie comes out," he said.
For the full article go here:
http://www.mercurynews.com/breaking-news/ci_19157653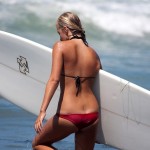 Become A Sponsor!
If you have a product or service that is a good fit for our surf community, we have opportunities for you to sponsor this blog!
Download our media kit now!