VIA – FORWARD


Julian Schnabel Auctions Surfboard for Charity
By Renee Ghert-Zand
Visual artist and Academy Award-nominated filmmaker Julian Schnabel has donated one of his limited edition "Blind Girl Surf Club" surfboards to a charity auction in California for Surfers Healing: A Foundation For Autism.
The black surfboard, which has a picture of a girl with a purple mark over her eyes on one side and "Blind Girl Surf Club" written on the other, is listed with an opening bid of $20,000 on the Surfers Healing fourth annual Holiday Surfboard Auction website. The fundraiser is sponsored by The Ritz-Carlton and Laguna Niguel's Community Footprints program.
The auction website quotes Schnabel describing the genesis and value of these special surfboards:
I don't know how many years ago we started making these surfboards. I made a painting of a girl with a purple mark over her eyes. I took the image of the painting, put it in a computer, printed it on rice paper so we could glass it into the board, and told Herbie (Fletcher) to write "Blind Girl Surf Club" on the other side. Then I kind of had this vision of everybody riding black surfboards with a girl with no eyes on them. We just wanted to give them to friends of ours…I wanted the best surfers to have one, and also my closest friends…my children…If anybody didn't behave, we wouldn't give 'em a surfboard, and you couldn't buy one! And you still can't.
Surfers Healing was founded and is run by former professional surfer Israel (Izzy) Paskowitz and his wife Danielle Paskowitz. They came up with the idea of hosting therapeutic surfing day camps for autistic children after they witnessed the profound effect surfing had on their own autistic son, Isaiah.
Israel Paskowitz is one of nine children of Dorian (Doc) Paskowitz and Juliette Paskowitz. The Jewish family's eccentric, transient surfing life from the late 1950s through the 1980s was documented in the 2007 film documentary "Surfwise" by Doug Pray.
Having lived at one point in Israel, Doc Paskowitz
…
For the full story go here:
http://blogs.forward.com/the-shmooze/147118/
and for information on how to bid on the surfboard go here:
http://www.biddingforgood.com/auction/item/Item.action?id=145959081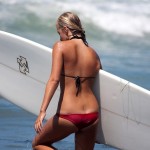 Become A Sponsor!
If you have a product or service that is a good fit for our surf community, we have opportunities for you to sponsor this blog!
Download our media kit now!