Ya I want one…
VIA – ESPN


Kelly Slater and his fifth wheel
JoliKelly Slater's fifth fin — it may not look like much, but it's had a big impact this year.
It's live: we read the wind in textures, we hear the sounds, place ourselves in the moment, measure ourselves against it, and we make our opinions known to anyone who will listen — but the truth is, there's close to nothing a webcast fan can do to influence the on-site action of a world tour surfing event.


Photo: TaylorSean Mattison, the mastermind behind Slater's "nubster."
Yet it's not impossible. In August Sean Mattison — former pro surfer, USA team coach and design geek of note — rolled his ankle while deploying a power snap in front of one of his young athletes, Courtney Cologne. The embarrassment healed better than the sprain. "Anytime I tried to do anything," he said, "it'd swell up." So a strong part of his rehab regime included watching every competition webcast, heat-by-heat, sitting in his kitchen, his ankle propped on a stool. Beginning with the U.S. Open, it turned out to be a pretty full contest schedule. Mattison told himself that he was studying heats to the benefit of the elite teen surfers he coached. They might find themselves in similar competition some day. But there was a part of Mattison that was just fanning-out as well.
Around about the initial rounds of the Billabong Pro in Tahiti, Mattison's design mind kicked in. He'd been an early proponent of the twinzer, having worked with Mike Hynson on a quad fish series that developed into the popular Blacknight model. Afterward, Mattison designed another hit called the Shadow for his own brand Von Sol. Following shapes amalgamated performance short board tails with fish-like dimensions. In pushing twinzers to thruster-like performance, Mattison realized it was always a trade-off. "We like how quick on a rail and how fast twinzers are, but they can be squirrelly." So, he'd been experimenting with this tiny, half-moon keel in the back — about an inch and a half tall — which smoothed the ride but retained the quad's best properties. The addition made his boards a ridiculous throw-back, however, the maligned five-fin.


Photo: Joli Slater's since broken this board, but he rode the five fin again on his way to a second place finish in Portgual.
As Mattison watched Kelly Slater tackle big Teahupoo on a quad, he paused. Throughout the year Kelly had been switching back and forth between thrusters and quads. Maybe, Mattison's little fin would create a middle ground for the champ. Mattison awoke one night during the contest window and decided to email Slater. Mid-email, he stopped. What if this backfired? The best case? The champ tries fin. The worst case? The champ tries and hates the fin. What if it's mocked as a joke from the '80s? His stock as a designer could plummet. Still, Mattison couldn't stop himself, he felt inspired, and he pushed send…
For the full article go here:
http://espn.go.com/action/surfing/blog/_/post/7119037/kelly-slater-fifth-wheel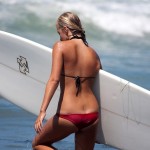 Become A Sponsor!
If you have a product or service that is a good fit for our surf community, we have opportunities for you to sponsor this blog!
Download our media kit now!