VIA – FOX SPORTS

Kelly Slater is the greatest sportsperson of all time, Fuel TV presenter Mark Occhilupo says
By Antony Pinshaw
FOX SPORTS
October 27, 2011 12:02PM
No.1 … Slater after beating Owen Wright at Teahupoo in August. Source: Kirstin Scholtz / AP
Kelly Slater is the greatest sportsman of all time, Fuel TV presenter and former surfing world champion Mark Occhilupo says.
The man known as "Occy" made the claim with Slater on the verge of claiming his 11th Association of Surfing Professionals (ASP) World Title.
Born: February 11, 1972
Height: 175cm
Weight: 73kg
Surfing Career
Years active: 1990-
Stance: Regular (natural) foot (left foot forward)
World Champion: 1992, 1994, 1995, 1996, 1997, 1998, 2005, 2006, 2008, 2010
World Championship Tour wins: 48
Slater's rivals must hope he finishes lower than ninth place in the coming round of the world tour, in San Francisco, to prolong the title race. But Occhilupo thinks it's a foregone conclusion.
"He's that far ahead that – if he doesn't get ninth, one of the other guys still has to win," Occhiluppo told foxsports.com.au.
"It's unlikely that's going to happen.
"He's pretty much going to win the title."
While there's no doubting Slater's standing in the surfing world, Occhilupo put forward a strong argument in saying Slater should join the likes of Muhammad Ali, Pele and Roger Federer at the very top of the world sporting pyramid.
"I think he's as good as any sportsman, for sure," Occhilupo said.
He's dominated our sport as much, if not more than anyone else has done in other sports.
Mark Occhilupo on Kelly Slater
Fuel TV: Read Occy's bio
"He's dominated our sport as much, if not more than anyone else has done in other sports.
"In some ways, surfing is harder because not only do you have to be the best, but you have to have luck with the waves.
"It's pretty ridiculous that he's been able to win that many times."
Occhiluppo notes that Slater has dominated over several decades, much as Michael Jordan and Don Bradman did in basketball and cricket respectively.
"He's covered two eras," he said.
"First there was me and Tom Curren in the 1990s, and now there's the likes of Mick Fanning and Joel Parkinson. So he's really covered a 20-year span."
Occy believes the secret to Slater's success lies in the American's adaptability.
He can surf big and small waves," he said.
"He hasn't really got any weaknesses in his backhand or forehand, and he rides such a different variety of boards.
"He's changed his surfing to adapt to the new criteria. He's not as powerful as before, but he's very exciting to watch because he's more creative so you're never sure what he's going to do.
"He's always mentally switched on, and he's really confident. He's certainly the hardest guy I've ever surfed against."
It's often forgotten there was a seven-year gap between Slater's sixth and seventh titles, but Occy never doubted it was only a matter of time before the American added to his trophy cabinet.
"I saw him surfing in Hawaii in the years he was off, so I knew that if he was going to come back he was going to win more titles because he was still so far ahead."
Likewise at the end of last year, when some tipped Slater to retire after the death of his close mate and former world champion Andy Irons.
"Those guys were good friends, but I don't know if it would have changed him that much because he's so focused, he knows what he wants," Occy said.
"I don't think he was ever going to retire (after Irons's death).
As for when – or if – Slater's incredible run is going to end, Occhiluppo isn't making any bold predictions…
For the full article and more photos go here:
http://www.foxsports.com.au/other-sports/knockout-polls/fuel-tv-presenter-mark-occhilupo-says-kelly-slater-is-the-greatest-sportsperson-of-all-time/story-fn8lh8cd-1226178026651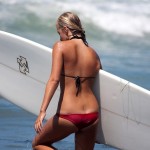 Become A Sponsor!
If you have a product or service that is a good fit for our surf community, we have opportunities for you to sponsor this blog!
Download our media kit now!