VIA – CNN
Celebs support Wall Street protesters
October 3rd, 2011
02:40 PM ET
They may not be in the "other" 99 percent, but wealthy stars are still lending support to the Wall Street protests.
According to the Hollywood Reporter, celebs like Mark Ruffalo, Yoko Ono and Russell Simmons are lending their support to the Occupy Wall Street movement.
The Occupy Wall Street demonstrations started in Manhattan on September 17 to protest corporate greed and corruption, especially in the finance industry.
"Change has to start somewhere. Why not here?" filmmaker Michael Moore said to protesters and reporters last Tuesday. Moore visited the Manhattan demonstration, as did Susan Sarandon.
Sarandon said to protesters, "It never changes from the top, it only changes from the bottom, and this is great."
Rapper Lupe Fiasco and Princeton professor and activist Cornel West also attended the protests, Reuters reports.
Mark Ruffalo stopped by the protest on Saturday, and tweeted, "Fighting for liberty, justice and equality are about as American as you can get. Are you really against that?"
That same day, 700 people were arrested for blocking the Brooklyn Bridge.
Russell Simmons has been encouraging Occupy Wall Street, tweeting, "give power to the people and not to corporations. take the money out of Washington."
Yoko Ono even involved late husband, John Lennon, in her support for the cause. "I love #OccupyWallStreet," she tweeted. "As John said, 'One hero cannot do it. Each one of us have to be heroes.' And you are. Thank you."
On Sunday, more stars took to Twitter to weigh in on the protests.
Movie critic Roger Ebert wrote: "Wall Street protests spread to Los Angeles. People are fed up with thieves."
Roseanne Barr also seems to have no sympathy for finance fat cats, tweeting, "The working class of this country were destroyed by wall street as the middle class was encouragd 2 jeer at them& call them lazy #goesaround"
"Does anyone else get the feeling that Occupy Wall Street is just the tip of the iceberg on both sides?" pro surfer Kelly Slater tweeted.
Musician Regina Spektor went to Facebook to criticize American media. "Occupy Wall Street has been peacefully protesting, holding general assembly, and marching for a week," she wrote…
For the full article go here:
http://marquee.blogs.cnn.com/2011/10/03/celebs-support-wall-street-protestors/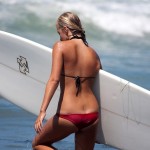 Become A Sponsor!
If you have a product or service that is a good fit for our surf community, we have opportunities for you to sponsor this blog!
Download our media kit now!