VIA ESPN
Feb 11
03:00
AM ET
By Jon Coen and Jake Howard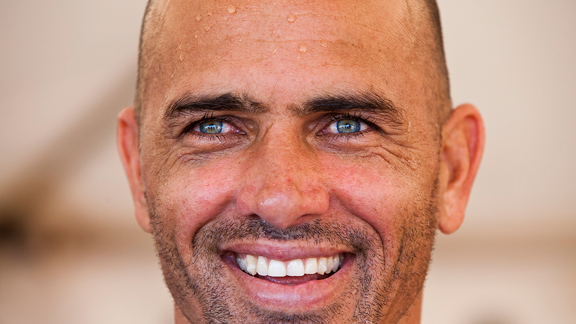 Tom ServaisHappy birthday, champ.
Kelly Slater turns 40 today. Despite our shifting baselines, yoga routines and soy burgers, 40 is old to be an elite competitor in any sport, much less one as acrobatic as waveriding. Yet Slater is as young as ever, and after his 11th world title, he is still way ahead of the game. He's a freak for sure, but surfing enjoys where it is today because of him. Since Slater is into factoids, we thought we'd honor his life as a timeline of important dates and events. Happy Birthday.
A Legend Turns 40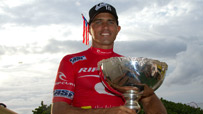 A look at Kelly Slater's 20 years of dominance. Gallery

Feb. 11, 1972: Robert Kelly Slater is born. Australia's Paul Neilsen wins the Smirnoff World Pro-Am, becoming the highest-rated "professional" of the year. One of the first surf documentaries, "Five Summer Stories," starring Gerry Lopez, is released.
July 4, 1976: Peter "PT" Townend becomes the first "world champion" by winning the IPS world circuit. Shaun Tomson (at Backdoor) appears on the cover of that month's issue of Surfer magazine. The United States celebrates its 200-year birthday. Little Slater loses a tooth.
1979: Mark Richards wins the first of four consecutive titles, setting the bar for greatness in surfing.
1981: Simon Anderson makes the thruster legitimate. It will serve as Slater's sword until he's middle-aged.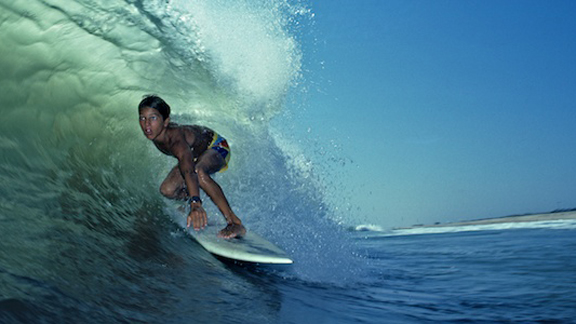 Mez/ESMKelly showing barrel riding knowledge from the start.
1982: Slater wins Menehunes at Eastern Surfing Association Easterns.
1984: ASP expands to 20 international events. Tom Carroll becomes the first official ASP world champion.
1985: Tom Curren wins his first ASP world title. Slater is under the tutelage of veteran Florida pro and aerial pioneer Matt Kechele.
1986: U.S. Open riots. Slater wins NSSA contest.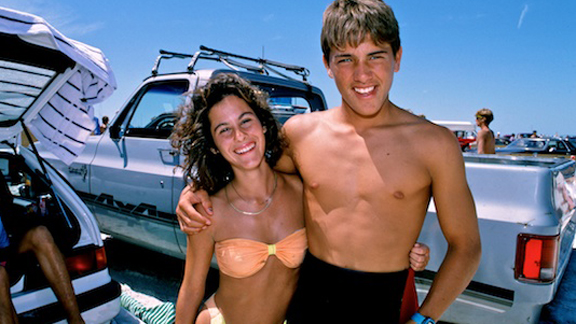 Mez/ESMAlways a fan favorite.
1990: Slater wins Body Glove Surf Bout and signs with Quiksilver. Sinead O'Connor tops the music charts with "Nothing Compares 2 U."
1991: Quiksilver releases "Kelly Slater in Black and White." "It's the morning of the final" becomes one of the most uttered lines in surfdom.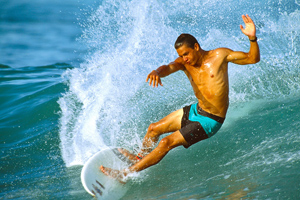 Tom ServaisHerbie Fletcher's event in Cabo, 1991.
1992: Slater wins his first world title at 21 — the youngest surfer ever to do so. He'll go on to win six titles over the course of the next seven years. Taylor Steele, 20, releases "Momentum" starring Slater and Rob Machado. Jimmy Slade goes head to head with the Tequila Shooter gang.
1994: Slater wins his second world title. He might get used to this.
1995: Slater wins his third world title and becomes the Pipe Masters champ.
1996: Slater wins seven ASP events and another title, throwing the Da Hui Backdoor Shootout in there for good measure.
1998: Bill Clinton has to hire a new intern. Slater "retires" from the tour and releases the album "Songs from the Pipe" with The Surfers, his band with friends Rob Machado and Peter King.
2002: "Kelly Slater's Pro Surfer" is released by Activision. Slater also wins "The Eddie" that year. Andy Irons wins the first of three consecutive world titles and spawns the "greatest rivalry in surf" with Slater.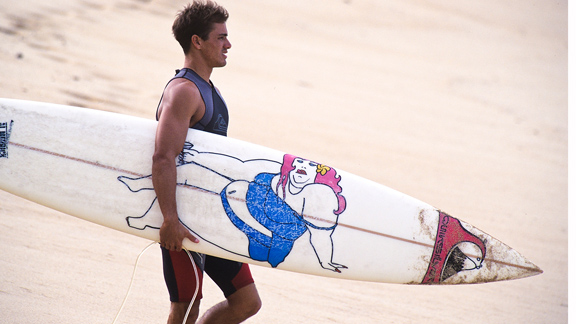 Tom ServaisWaimea, November 1995. Cool sketch, solid head of hair.
2003: Slater helps the East Coast win the first Surf event in the X Games. He releases "Pipe Dreams," an autobiography, with longtime friend and author Jason Borte. Some surfers finish an entire book for the first time in their adult lives…
For te full article and more…
http://espn.go.com/action/surfing/blog/_/post/7554948/kelly-slater-turns-big-4-0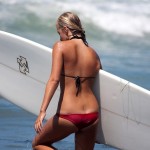 Become A Sponsor!
If you have a product or service that is a good fit for our surf community, we have opportunities for you to sponsor this blog!
Download our media kit now!