VIA – TRANSWORLD
Kelly Slater Unveils His Top Secret Wave Pool Plan
By Justin Cote
Mon, Oct 24 2011 9:09 am
11, err, 10-ten time World Champion Kelly Slater allows CBS This Morning a rare glimpse into a secret Los Angeles warehouse where he and a team from the Kelly Slater Wave Company are building a wave pool that could bring surfing to the masses—for a price.
While people are hyped for the project, initially dubbed, "The Ring," I've yet to see a wave pool to get excited about…
For the full story go here:
http://surf.transworld.net/1000139453/videos/kelly-unveils-the-kelly-slater-wave-company/2/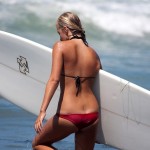 Become A Sponsor!
If you have a product or service that is a good fit for our surf community, we have opportunities for you to sponsor this blog!
Download our media kit now!