VIA – PACIFICA PATCH


Photo Credits: Frank Quirarte/Zach Wojcik
Where Does a World Surfing Champ Celebrate? At Sea Bowl of Course — With Entourage in Tow
After winning a record 11th world title at Rip Curl Pro Search San Francisco, Kelly Slater headed down the coast with his friends to go bowling. Oh, and members of Metallica were there, too.
You just clinched your 11th world championship surfing title at Rip Curl Pro Search San Francisco, you're poised to go down in history as the greatest surfer to have ever paddled out on a chunk of foam, you date supermodels, you've made millions in a glorious career AND you hang out with rock stars.
Where do you go from there?
Apparently, if you're Kelly Slater, you grab two dozen of your best bros, including three former world champions, the CEO of Quiksilver, a who's who of the surfing elite and a couple of dudes from Metallica, jump into a van and head down the coast to go bowling at Pacifica's Sea Bowl.
On Wednesday, in dramatic fashion, Kelly Slater was crowned the 2011 Association of Surfing Professionals Champion — surfing's highest honor. It was Slater's 11th time hoisting the championship trophy over his head. No other surfer has ever come close to matching that number.
Rumor had it that the Quiksilver entourage was renting a couple of houses down the coast from San Francisco for the 12-day waiting period during which the contest can take place. With the possibility of Slater clinching his title during his second heat on Wednesday, plans were being hatched to hold a celebration nearby. So many possibilities for the perfect San Francisco venue: the Ritz, the W, the Fairmont…
But Seabowl?
Slater said Sea Bowl was a no-brainer: "I just wanted to hang out with my friends and celebrate."
Earlier in the day, Slater's manager scouted out Sea Bowl. It was big; it had activities and a bar. And, with the help of Quiksilver's local representative Steve Baker and his wife Tracy, they managed to transform the lanes into the mother of all league nights.
"I'm glad they chose Pacifica to celebrate," said Steve Baker, a Pacifica surfer. "To first have the championship tour right in our back yard and now guys like Tom Curren, Mick Fanning and Taj Burrow all hanging out at our bowling alley is awesome."
At first they took over a couple of lanes at one end of the alley, but by the end of the night so many surfers and their friends and families had shown up that the party literally consumed the place.
For Jessica Scott and Marissa Harrington, two Pacifica residents and Wednesday night regulars at Sea Bowl, it was a pleasant surprise to show up and have the Kelly Slater bowling right next to them.
"We try and come every Wednesday," said Scott. "It was a great surprise and an honor to have these guys show up tonight."
It's been a great vibe all around since the start of the event. The first two days have gone off in epic surf and beautiful weather.
"We're thrilled to have them all in town," said Kim Darrow, El Granada resident. "Even though there's so much money and pretentiousness that comes along with these events, the surfers themselves, including Kelly Slater, are very approachable. I hope they come back."
If you were lucky enough to score a wristband early Wednesday night, drinks and food were all on Slater. And, even with the amount of spirits consumed, at the end of the night the Sea Bowl staff gave the party high honors for their politeness and good manners.
"Sometimes the surfers don't always have a great reputation, but this crew was gracious and respectful," said Jackie Para, one of the managers on duty Wednesday night. "They're a happy group, and they all have good energy…"
For the full story and tons of photos go here:
http://pacifica.patch.com/articles/world-surfing-champ-celebrates-at-sea-bowl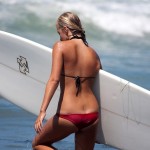 Become A Sponsor!
If you have a product or service that is a good fit for our surf community, we have opportunities for you to sponsor this blog!
Download our media kit now!