VIA – LA TIMES
Larry Stevenson was an inveterate inventor. Among his creations: a battery-operated armpit cooler to help nervous salespeople avoid sweating, a saltwater-based hair spray and an easy-to-assemble prefabricated house that was used in disaster areas. (unknown / March 26, 2012)
Larry Stevenson, skateboard innovator and publisher, dies at 81
In the 1960s, Larry Stevenson's Makaha skateboards helped merge surfing and skateboard cultures. He also publicized the activity as publisher of Surf Guide magazine.
By Valerie J. Nelson, Los Angeles TimesMarch 27, 2012
Larry Stevenson, a Venice Beach lifeguard who helped popularize skateboarding in the early 1960s by marketing his Makaha boards to riders eager to essentially surf on land, has died. He was 81.
Stevenson, who had Parkinson's disease, died Sunday at Santa Monica UCLA Medical Center, said his son, Curt.
"He was the guy who said, 'I can merge surfing with the skateboard culture,'" said Michael Brooke, author of the 1999 skateboarding history "The Concrete Wave." "At one point in time, there was nobody bigger making skateboards."
From his lifeguard tower, Stevenson noticed kids riding rickety, often homemade, skateboards, and he had an epiphany, he later recalled. He knew he could engineer a better skateboard and, as publisher of Surf Guide, used the magazine to link the wheeled pastime to the exploding surf scene.
"I wanted to expand skateboarding because I knew it had room to expand," Stevenson said in 2008 in TransWorld Skateboarding magazine. "I wanted to do something bigger and better."
Working with his wife, Helen, in their garage, he began building skateboards designed to resemble surfboards. He improved the ride by replacing the steel wheels with a clay version and upgraded the trucks, the device that holds the wheels.
By 1963, he had begun mass-producing skateboards at 26th Street and Colorado Boulevard in Santa Monica. That year, he also made the first professional skateboard, naming it after legendary surfer Phil Edwards.
The same year, Makaha sponsored the first skateboard contest, with about 100 competitors at Pier Avenue Junior High in Hermosa Beach. His company also was the first to sponsor a skateboard exhibition team, according to skateboarding histories.
He promoted the brand with Surf Guide ads that showcased such famous surfers as Mike Hynson and Mike Doyle riding Makaha skateboards.
Around town, Surf Guide employees passed out free boards and recruited a crew of "young innovators who put down the first roots of sidewalk surfing's stylistic aesthetic," Keith David Hamm wrote in the skateboarding history "Scarred for Life" (2004).
Makaha — named for a big-wave Hawaiian surf spot — emerged as an industry leader and by the end of 1965 had sold $4 million in skateboards.
"For a young guy like me just starting out, it was like working with the Wizard of Oz," said Bob Feigel, who managed the skateboard team and wrote for Surf Guide. "He was just so full of ideas and energy, and he was able to translate those ideas into reality."
In 1965, the American Medical Assn. labeled skateboards "a new medical menace." Safety experts urged stores not to sell skateboards and advised parents not to buy them.
The fad died as quickly as it began, as did sales for Makaha.
"One week I was getting so many orders, people were leaving them on my doorstep…. The next, I was getting 75,000 cancellations in a single day!" Stevenson recalled in "The Skateboarder's Bible" (1976).
He shut down the factory in 1966 and returned to his lifeguard chair, but he continued to ponder building a better skateboard.
In 1969, Stevenson applied for and was later granted a patent for a design that would help revolutionize skateboarding — the kick-tail…
for the full article go here:
http://www.latimes.com/news/obituaries/la-me-larry-stevenson-20120327,0,1241855.story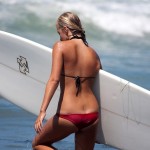 Become A Sponsor!
If you have a product or service that is a good fit for our surf community, we have opportunities for you to sponsor this blog!
Download our media kit now!