VIA – EASY READER
Walk of Fame inductee Mark Levy.
Walk of Fame inductee Mark Levy.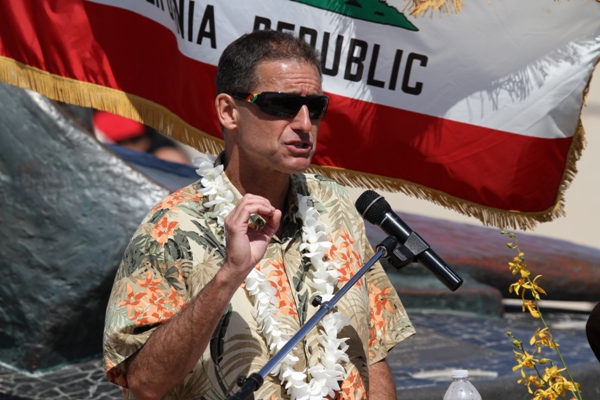 Walk of Fame inductee Steve Wilkings.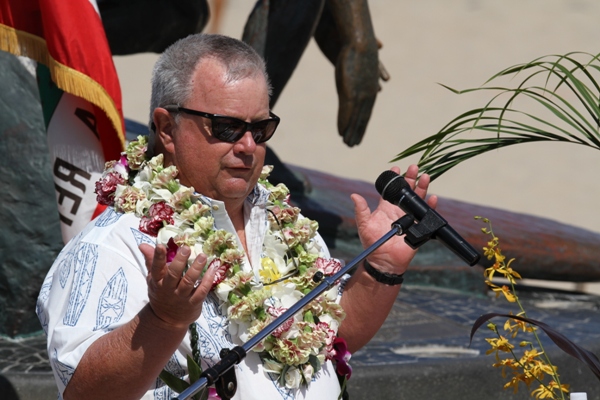 Mark Levy and emcee John Joseph.
Saul Levy and sons Mark and Derek.
Hermosa Beach Mayor Howard Fishman with inductee Steve Wilkings and emcee John Joseph
Photos by Mike Balzer
Mark Levy spoke of fellow Surfing Walk of Fame inductee Steve Wilkings' years at Surfer Magazine as the halcyon days. But though Levy was a generation younger, he too enjoyed at least the tail end of surfing's golden era, from the late '50s through the early '70s. Levy won Junior U.S. Surfing Championships in 1974.
Now, he said, during his comments Saturday at the hall of fame inductions, held at the foot of the Hermosa Beach pier, the South Bay surfing is experience a new golden era, thanks to the walk of fame committee, headed by SB High School Surf League director John Joseph, and to the two-year-old South Bay Boardriders Club, co-founded by Levy's brother Derek, Mike Balzer and Tom Horton.
"I'm a lucky man. All of us are, to be here on this day, at this time," Levy said. As he spoke the spring sky was blue and warm, and a few hundred feet away, on the south side of the pier, Mira Costa and Redondo high school alumni were holding a surf contest in fast, peaky, three-foot waves. Levy had to excuse himself to blow his nose during his talk. He wasn't over come by emotion. His sinuses were dripping seawater from his morning surf session. Levy credited the greatest part of his lucky life to his waterman father Saul.
Wilkings confirmed Levy's memories of surfing in the '60s and early '70s. His biggest conflict during those years was…
For the full article and all the photos go here:
http://www.easyreadernews.com/49434/levy-wilkings-hermosa-surfing-walk-of-fame/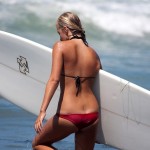 Become A Sponsor!
If you have a product or service that is a good fit for our surf community, we have opportunities for you to sponsor this blog!
Download our media kit now!