VIA- LA JOLLA LIGHT


Life Rolls On: Spinal cord injuries won't stop these surfers from riding the waves in La Jolla on Saturday
By Jenna Jay
More than 150 La Jolla volunteers, including employees of the eco-friendly hair care company Tonic, will participate in the fifth annual They Will Surf Again event at La Jolla Shores from 9 a.m. to 3 p.m. on Sept. 10. Sponsored by the Life Rolls On Foundation (LRO), a subsidiary of the Christopher & Dana Reeve Foundation based in Culver City, the La Jolla surf event will provide an opportunity for participants with spinal cord injury and paralysis to experience a day of surfing with the help of volunteers.
"Our purpose is to improve the quality of life for people with forms of paralysis," said Sarah Donaldson, program manager for Life Rolls On. "[It's] to let them surf again if they were surfers pre-accident or maybe this is their first time ever. We push the possibilities, show them anything is possible. They're enjoying being able to ride the waves and surf, despite maybe being confined to a wheelchair while on land."
They Will Surf Again (TWSA), now in its 12th year nationwide, is a free program for participants through Life Rolls On that provides annual surfing experiences for those living with spinal cord injury. TWSA is happening in nine cities across the country.
The event at La Jolla Shores will bring 40 surfers and 150 volunteers to the beach for the day, pairing 10-12 volunteers per participant for an afternoon of camaraderie and aquatic activities.
"[The best part of the event] is really just being able to share that experience with someone who's catching a wave for the first time," said Lauren Otonicar, a TWSA volunteer and founder/president of La Jolla-based Tonic hair care company, which will provide volunteers at this year's event.
Otonicar requires, as part of Tonic's philanthropic mission, that all employees participate in a volunteer activity once a year. "Our philosophy is to be of service and give back to the community," she said. "It's changed my life and I hope co-workers get something out of it, too."
Otonicar said her involvement with the surf community connected her with Life Rolls On, and brought her full circle through Tonic. Targeted toward surfers and environmentally conscious consumers, Tonic's organic products are sold at Surf Diva and Bird Rock Surf Shop.
For the full story go here:
http://www.lajollalight.com/2011/09/06/life-rolls-on-spinal-cord-injuries-won%E2%80%99t-stop-these-surfers-from-riding-the-waves-in-la-jolla-on-saturday/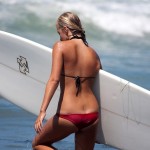 Become A Sponsor!
If you have a product or service that is a good fit for our surf community, we have opportunities for you to sponsor this blog!
Download our media kit now!