LIVE FEED ON RIGHT NOW! QUIKSILVER PRO FRANCE 2011

QUIKSILVER PRO FRANCE ROUND 1 MATCH-UPS:
Heat 1: Jeremy Flores (FRA), Matt Wilkinson (AUS), Taylor Knox (USA)
Heat 2: Joel Parkinson (AUS), Jadson Andre (BRA), John John Florence (HAW)
Heat 3: Mick Fanning (AUS), Brett Simpson (USA), Tiago Pires (PRT)
Heat 4: Owen Wright (AUS), Chris Davidson (AUS), Dane Reynolds (USA)
Heat 5: Jordy Smith (ZAF), Kieren Perrow (AUS), TBA
Heat 6: Kelly Slater (USA), Fredrick Patacchia (HAW), TBA
Heat 7: Taj Burrow (AUS), Raoni Monteiro (BRA), Kai Otton (AUS)
Heat 8: Julian Wilson (AUS), Bede Durbidge (AUS), Dusty Payne (HAW)
Heat 9: Adriano de Souza (BRA), Gabriel Medina (BRA), Travis Logie (ZAF)
Heat 10: Adrian Buchan (AUS), Heitor Alves (BRA), Daniel Ross (AUS)
Heat 11: Michel Bourez (PYF), Alejo Muniz (BRA), Miguel Pupo (BRA)
Heat 12: Josh Kerr (AUS), Damien Hobgood (USA), Patrick Gudauskas (USA)
NOTE: Draw subject to change pending withdrawals.
GO HERE RIGHT NOW!:
http://quiksilverlive.com/profrance2011/liveHD.en.html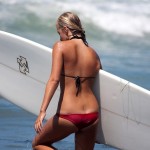 Become A Sponsor!
If you have a product or service that is a good fit for our surf community, we have opportunities for you to sponsor this blog!
Download our media kit now!