VIA – KEYT
Local Surfer to be Grand Marshal of Holiday Parade
Story Created: Nov 30, 2011 PST
Story Updated: Nov 30, 2011 at 8:13 PM PST
Santa Barbara – You may know her as the local surfer girl turned pro. But this weekend, Lakey Peterson will play a new role… Grand Marshal of the 2011 Downtown Holiday Parade.
Peterson is a popular pro surfer, currently ranked 7th in the world and has dominated the waves for years. The young surfer says hitting the water may be a passion, but being part of the holiday parade is also a perfect fit.
"I love Christmas, it's my favorite holiday so to be in the holiday parade its very fitting for me. I'm really excited, its going to be tons of fun, there's going to be a lot of people down here and yeah, its just going…"
For the full article go here:
http://www.keyt.com/news/local/Local-Surfer-to-be-Grand-Marshall-of-Holiday-Parade-134798783.html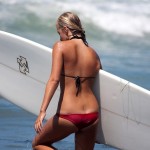 Become A Sponsor!
If you have a product or service that is a good fit for our surf community, we have opportunities for you to sponsor this blog!
Download our media kit now!