Rob's my fav up-and-coming EC pro, let's take WV Rob! Also shout out to one of my best bros (and one of the hardest rippers over 50!), Dave Larose from WV now in SD!

Local surfers Rob Kelly, Zach Humphreys and Dean Randazzo thrilled to get big chance in Virginia Beach this week
Posted: Monday, August 22, 2011 12:30 am | Updated: 12:23 am, Mon Aug 22, 2011.
By JON COEN, For The Press |
Three southern New Jerseyans will compete in the 49th annual Coastal Edge East Coast Surfing Championships starting today in Virginia Beach, Va.
The event marks the return of the Association of Surfing Professionals, or ASP, to the East Coast for the first time in two years.
The local competitors: Rob Kelly, 21, of Ocean City; Zach Humphreys, 22, of Margate; and Dean Randazzo, 42, of Somers Point.
Kelly first went to the ECSC in 2004, at age 15, winning the amateur Junior Men's division and taking second in the Junior Pro. At 16, he repeated his amateur win and at 18 he won the Junior Pro.
"I wish that more of the Jersey guys were able to come down for the event. I know that they'd do well in the contest, but it's harder than ever these days to travel and do the ASP pro events," Kelly said last week. "There aren't that many contests in North America anymore, so guys have to spend a lot of time and money to travel to Brazil or Europe just to get a few points to enter the few events in this region."
There have not been any ASP qualifying events outside of California in two years. Surfers compete in these events with an ultimate goal of building enough points for the very elite World Tour.
From 2005-09, the sporting goods and swimwear company O'Neill sponsored the Sebastian Inlet Pro in Florida, allowing East Coast surfers the chance to compete closer to home. Since then, aside from a few ASP Junior Pros, including those in New Jersey, there have not been any star-level events on the East Coast.
The ASP ranks qualifying contests on a 1-6 star system. This year, the surf industry has taken a renewed interest in the East Coast, most obviously with the Quiksilver Pro New York, one of 11 stops on the World Tour. But Vans, a manufacturer of surfwear and accessories, also stepped in to sponsor a 4-star Pro as part of this week's East Coast Surfing Championships.
Kelly, Humphreys and Randazzo will compete in the 4-star event in Virginia Beach.
Randazzo remains the only New Jersey surfer to have competed on the Men's World Tour, having done a stint in the 1990s before a decade-long series of battles with Hodgkin's disease.
"A 4-star is a decent sized event, making some points available," Randazzo said. "The lack of qualifying events in America makes it virtually impossible for an American surfer to accumulate points to qualify for the bigger Prime events that come to the states. And, the lack of sponsorship dollars from the big surf brands on the East Coast makes it even harder. So, having an event close to home gives some of these guys a crack at some valuable points."
Humphreys has made a career as a freesurfer for O'Neill, and still does a handful of contests each year.
"It's sick that ECSC is an ASP event this year," he said. "I've been going down to ECSC for years, and it's such a fun event. I'm psyched to be competing and hopefully there will be some fun waves this year."
Fewer opportunities
On an international level, the ASP restructured itself in 2010, doing away with the old World Qualifying Series. Sanctioned events are still held around the world, offering points toward qualifying for the World Tour. But now, there is a One World system in which hundreds of ASP surfers are now ranked.
The entire revamp has made the entire ASP more competitive. Today, many East Coasters don't have enough points to even get slots in the 6-stars and bigger contests known as Prime events. Without those, a bid for the World Tour is impossible. The Vans event at the ECSC will now, at least, offer some opportunity on relative home turf, for East Coast surfer to gain valuable ranking points and compete in future events. In comparison, Brazil has seven contests that offer points in 2011.
The ECSC first appeared on Long Island in 1962 and soon after shifted to Virginia. Cape May's Jason Reagan won the Men's Pro in 2003. Today, it is a weeklong beach festival with a Women's Pro, 34 amateur divisions, skimboarding, volleyball, an 8K run, skateboarding, and swimsuit contests.
For the full story go here:
http://www.pressofatlanticcity.com/sports/local-surfers-rob-kelly-zach-humphreys-and-dean-randazzo-thrilled/article_949fc6be-9806-502a-b9c9-a2d9230ccaec.html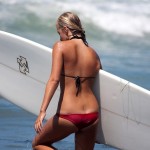 Become A Sponsor!
If you have a product or service that is a good fit for our surf community, we have opportunities for you to sponsor this blog!
Download our media kit now!