VIA – NBC BAY AREA


Make Your Own Surfboard
By Mark Lukach
| Friday, Jul 29, 2011 | Updated 11:56 AM PDT
There are plenty of places in the Bay Area where you can buy a surfboard. And almost as many that offer customized boards, where you meet with the shaper and discuss the specific dimensions of a board you'd like. But Sunset Shapers, located in the Outer Sunset, is a totally unique surf shop, because you can shape your own board there.
"I think that every surfer should try to shape their own board at some point," claims James Mitchell, the owner of Sunset Shapers. He opened the storefront on Noriega Street last fall as a showroom for his own surfboard company, Las Olas Surfboards, and designed the shop to include a shaping room in the back. "It's more old-school this way, the way surf shops used to be. You walk into the store, you hear the grind of the planer in the backroom."
When I stopped by Sunset Shapers, Dave Eaton of Oakland was in the backroom, working on a longboard design. "You can't do this anywhere else," Dave said. "I'm a craftsman, and I've always wanted to get my hands into shaping my own board. And I'm finally doing it."
The steps of shaping your own surfboard at Sunset Shapers are pretty straightforward. James rents out the room for 8 hours (broken into two 4-hour chunks) for $100. You have access to all of his tools, and even the templates he has created for his own board designs. You buy a foam blank, which range from $60-$150, depending on the size you're going for. And then you go in there and shape. If James is around, which he often is, he'll pop into the backroom for some guidance and advice.
Including the rental, the blank, and the glassing job, most people end up paying around $400 to shape their own board. That's cheaper than most surfboards on the market today, and you get the satisfaction of making the board yourself.
For the full story go here:
http://www.nbcbayarea.com/news/local/Build-Your-Own-Surfboard-126414478.html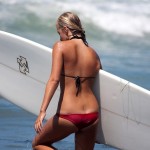 Become A Sponsor!
If you have a product or service that is a good fit for our surf community, we have opportunities for you to sponsor this blog!
Download our media kit now!