Looks like a good photo for a caption contest lol…
VIA – WHATS ON XIAMEN


Man draws crowds for naked surfing near Xiamen's Huandao Road
Updated: 19 Aug 2011
A man was widely discussed among netizens after surfing naked at Huandao Road, a scenic area in Xiamen, on August 17th, with many netizens showing their disapproval of the man's public behaviour, reports Straits Herald.
Many netizens showed that the man did that for fame, and it is uncivilized behaviour, according to online comments.
The man, identified only as Louis, said he couldn't help removing his clothes during kite surfing training due to the beauty of the Xiamen sea water. "I was about to leave Xiamen for Shandong on August 18th to attend a kite surfing contest. I just couldn't help it and it was my first time to surf naked" said Louis.
Louis, believed to be the first one who was found surfing naked in Xiamen, drew crowds at Huandao Road on Wednesday afternoon. Some netizens even came to see him, particularly after seeing the posts on Weibo, a twitter-like service in China.
He finally quit the surfing as more and more people were drawn there within two hours. "It's worth it as Xiamen sea water is so beautiful, but not many people will appreciate what I have done here due to the cultural background." said Louis.
For the full story go here:
http://www.whatsonxiamen.com/news20752.html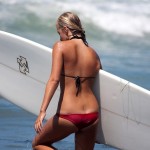 Become A Sponsor!
If you have a product or service that is a good fit for our surf community, we have opportunities for you to sponsor this blog!
Download our media kit now!