VIA HUFF POST
Matt Garrett, Boston Man, Spots Great White Shark In North Carolina (VIDEO)
First Posted: 11/30/11 05:17 PM ET Updated: 12/ 1/11 09:48 AM ET
The North Carolina coast may not be the first place you would expect to see a great white shark, but it does happen. Matt Garrett, a Boston, Massachusetts resident, and a group of friends went fishing over Thanksgiving weekend and caught the encounter on video.
The group was fishing about 25 miles from Wrightsville Beach in the southern part of the state. Garrett told CNN, "Off in a distance we saw two big fins sticking up in the water. We thought it was a couple Atlantic Sunfish or two dolphins. As the two fins approached a little closer, we noticed it was a giant shark."
Garrett said the shark nudged their boat with his nose before slapping it with his tail and swimming around the boat. He was able to record the encounter using his iPhone. WWAY reports that the shark swam around the boat for nearly 20 minutes.
A spokesman for the North Carolina Aquarium says Garrett and his friends acted appropriately. Paul Barrington said, "They did the right thing. They didn't harass it. They took some great video of it," reports WXII.
Unfortunately, not all shark encounters end positively. In October, an American tourist in Western Australia was killed by a shark near Perth.
Human attacks on sharks are much more common, however. A study by the University of Florida found that up to 70 million sharks are killed annually by fishing fleets.
California recently passed a ban on the sale, trade and possession of shark fins, which are used in a soup traditional to some Asian cultures, to protect diminishing shark populations.
For the original post go here:
http://www.huffingtonpost.com/2011/11/30/great-white-shark-matt-garrett_n_1121277.html?1322691453&ncid=webmail18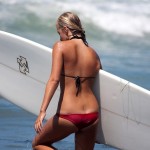 Become A Sponsor!
If you have a product or service that is a good fit for our surf community, we have opportunities for you to sponsor this blog!
Download our media kit now!