VIA – BAY CITIZEN

Mavericks Accidents Trigger Rethink on Jet Ski Ban

PHOTO: Russell Ord "A set of freak waves near Pillar Point on Jan. 22 nearly killed surfer Jacob Trette"
Federal officials say San Mateo County is free to train volunteer surf rescuers who could operate within the marine sanctuary
By John Upton on August 8, 2011 – 5:51 p.m. PDT
In the wake of two dramatic accidents this year at the Mavericks surf break near Half Moon Bay, the federal government and San Mateo County are working on a plan to lift a controversial ban on Jet Skis for surfers and photographers who receive special rescue training.
Jet Skis and other personal watercraft are generally prohibited at the surf site off Pillar Point because of harm they could inflict on wildlife and water quality in the Monterey Bay National Marine Sanctuary. The ban does not apply to public safety agencies, and it is relaxed during Mavericks surf contest events and on some other turbulent winter days in the interest of surfer safety.
The federal government is now suggesting that San Mateo County pursue a plan that would allow surfers and surf photographers to use personal watercraft in the area if they are trained and certified to perform surf rescues.
In January, surfer Jacob Trette was resuscitated after a surf photographer used a banned personal watercraft to pluck the southern Californian surfer's unconscious body from the water following a wipeout. In March, professional surfer Kion Milosky died despite the presence of illegal personal watercraft after he was wiped out by a wave that reportedly reached the height of a six-story building.
In May, the US National Oceanic and Atmospheric Administration sent a letter inviting the San Mateo County sheriff to consider coordinating a training and certification program for would-be Mavericks surf rescuers.
"Public safety agencies with ocean rescue mandates have the freedom under our regulations to provide stand-by rescue craft of any kind at Mavericks whenever they deem it necessary," NOAA official Maria Brown wrote in the letter. "If the San Mateo County Sheriff's Office wanted to assume responsibility for volunteer motorized personal watercraft rescue teams, you can do so."
The letter appears to suggest that San Mateo County could have addressed the issue on its own without special permission from the federal government.
The sheriff's department will meet on Thursday with Gulf of the Farallones National Marine Sanctuary Advisory Council members in Pacifica, where the department is expected to show support for such a program.
"Our sheriff has indicated that we want to help in any way that we can," said Lt. Ed Barberini of the San Mateo County sheriff's office. "We haven't talked about the credentialing process or what it's going to entail. We're new to this whole process."
Barberini said the department already runs a program involving more than 300 volunteers who perform cliff rescues and other emergency work. That program could be expanded to include surf rescues at Mavericks and other shoreline locations.
For the full story go here:
http://www.baycitizen.org/mavericks/story/mavericks-accidents-trigger-rethink-jet/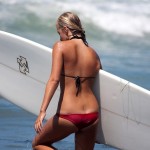 Become A Sponsor!
If you have a product or service that is a good fit for our surf community, we have opportunities for you to sponsor this blog!
Download our media kit now!