VIA – SURFLINE
Maverick's Invitational Official Forecast: Update 2/23/2012
Posted: 02/23/12
What's the surf look like for Maverick's this week?
Updated: Thursday Evening PST, February 23rd
No major swells on the radar, although we will monitor a pair of swells over the next week
Sat PM-Sun, the 25th-26th: Medium size NNW swell just on the threshold to get Mavs occasionally breaking
Wed PM-Thur, the 29th-1st: Possible larger NW swell with 15-25'+ faces but with unfavorable wind/weather
The North Pacific storm track is being bumped up to a more northerly latitude as high pressure, which has been immediately over or off the West Coast for most of the last couple months, is slowly sliding westward. In the shorter term this scenario will produce swells from a northerly angle, with swell sources both far and near. Neither of the short term swells will be major, extra large events, if the storms behave as currently forecast, but both bare watching over the next few days…
For the full article go here:
http://www.surfline.com/surf-science/mavericks-invitational-official-forecast_67381/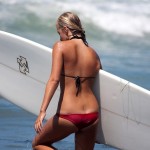 Become A Sponsor!
If you have a product or service that is a good fit for our surf community, we have opportunities for you to sponsor this blog!
Download our media kit now!