VIA – SANTA CRUZ PATCH
Mavericks Legend "Flea" Rescues Struggling Body Boarder
Darryl "Flea" Virostko saw a 65-year-old boogie boarder fighting one of the largest swells in two years. He took action.
Darryl "Flea" Virostko and his brother Troy were driving along West Cliff Drive Sunday, checking out some of the biggest waves in Santa Cruz in two years, when Darryl noticed something wasn't right.
"Troy and I were driving in his truck when we rounded the corner by Mitchells Cove and I saw a body boarder kind of just floating," Darryl, 40,  recalled Tuesday. "I mentioned to Troy that he get his wetsuit ready as we might have to jump in and grab this person that looked spent."
Sure enough what happened next is what makes a hero. Without a second thought Virostko knew he had to act fast and now. His brother went to get the wetsuit on and Flea went after the person in distress.
While people were watching from the cliff, the infamous big wave surfer, who just the day before had been given the Mavericks Legend Award at the Mavericks Invitational Festival, didn't hesitate as he scampered down the rocks past an elderly man that was attempting to get to the body boarder in distress.
"I know that trail so well at Mitchells so I just bombed down and got to the rocks above the water as waves kept crashing over the person."
What Flea didn't realize as he braved the icy 50-degree water fully clothed, was that the body boarder in distress was a 65-year-old woman who had given her last bit of energy to attempt to get up onto the rocks above.
To make matters even more troublesome, Flea had injured himself a few days before surfing when the nose of the surfboard he was riding punctured his hip. It was healing and sore. None of this ran through his mind when he saw the woman he would only come to know as "Lee."
"I realized that I had just put all of that out of my mind, the pain and my soreness. I knew that if I didn't grab this person they would probably drown."
As Darryl and his brother Troy jumped into rocks with the surging waves as high as 20 feet, the woman grabbed onto him and as they pulled her up out of the water another round of waves pushed up against the coast almost washing them all back into the pounding surf.
"We had to grab onto one another and the rocks to avoid getting washed out into the ocean, it was heavy."
By this point rescue crews began to arrive. This was one of three rescues…
For the full article go here:
http://santacruz.patch.com/articles/mavericks-legend-flea-rescues-body-boarder-from-certain-death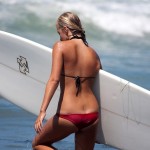 Become A Sponsor!
If you have a product or service that is a good fit for our surf community, we have opportunities for you to sponsor this blog!
Download our media kit now!