VIA – KSW….B NEEEEEWS 98!

'Mavericks' Movie Producers Need Santa Cruz Locals As Extras

By Amy Larson, KSBW.com
POSTED: 1:30 pm PDT September 27, 2011
UPDATED: 4:22 pm PDT September 27, 2011
SANTA CRUZ, Calif. — If you've ever dreamed of being a famous movie star, well, keep dreaming.
Movie producers and casters are, however, looking for Santa Cruz locals to hire as paid extras for a film they are shooting in Santa Cruz next month.
The movie, titled "Mavericks," will be shot in Santa Cruz from Oct. 10-21, followed by filming in Half Moon Bay and Pacifica through mid-December.
Directed by Curtis Hanson and starring Gerard Butler, "Mavericks" is based on the real life story of Santa Cruz surfing legend Jay Moriarity.
The casting company, Beau Bonneau Casting, wants Santa Cruz men and women between the ages 18-60 to fill background roles. The movie takes place in the years 1986 and 1994, so if you are already rocking an 80's or 90's clothes and hair style, that's a plus.
Background roles include: surfers, skateboarders, beach-goers, surf contest spectators, and "rough alternative types." Some roles may be more visible on camera and require a director's approval.
The hours and pay are less than glamorous. Daily shoots typically last 12 to 14 hours, with filming beginning at 6 a.m.
Extras will be paid $8 an hour, and people cast with their own surfboards, BMX or Cruiser bike, skateboards, cameras and 80's and 90's-style cars for using in the movie will be paid more.
You must be a U.S. citizen, have a current U.S. passport or two other forms of ID such as a driver's license, birth certificate or Social Security card. Non-U.S. citizens must show a green card or permanent resident card. No minors are allowed to apply.
To apply for a background role, email the following information to [email protected]:
– Email Subject Line: Santa Cruz Local – Name, Age Range (late teens, 20s, 40s, etc.)
– Cellphone Number
– Height, Weight and Tattoos
– Your Availability: Extras are needed for one or more weekdays from Oct. 10 to Oct. 21. Oct. 20 and 21 are night shoots inside and outside a restaurant.
– Surfers needed on Oct. 10, 12, and 17. The emphasis on Oct. 12 is a paddle out. Include how many years you have surfed, your ability level, and if you've surfed Mavericks before.
* Owners of 1995 and Older Vehicles: Include year, color, make and model. Casters have a special need for '80s and older cars on Oct. 10. (Include photos)
– BMX or Cruiser Bicycles (Include photos)
For all the information go here:
http://www.ksbw.com/news/29319194/detail.html?utm_source=twitterfeed&utm_medium=twitter
For more articles and photos of Gerard Butler training for 'Mavericks' go here:
http://surftweeters.com/?s=gerard+butler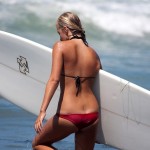 Become A Sponsor!
If you have a product or service that is a good fit for our surf community, we have opportunities for you to sponsor this blog!
Download our media kit now!