VIA – HANSON MEDIA


MITCHELL AND MERCER WIN PADDLEBOARD WORLD TITLES
7/31/2011
Surf Sports, August 1: Australia's major international sporting success has continued in Hawaii today with legendary Gold Coast waterman Jamie Mitchell and rising Ironwoman star Jordan Mercer setting new race record times in winning the Molokai Paddle Board World Championships.
Mitchell, won a record 10th straight title in one of the most amazing performances in the history of the 50kilometre Molokai-2-Oahu Paddleboard event.
The 34-year-old took 4 hours 40.31 to take eight minutes off his own previous record and to lead an all-Australian paddling podium ahead of Sydney's Brad Gaul (4:47.45) and NSW Central Coast's Jackson English (4:53.03).
While the men dominated it was Sunshine Coast schoolgirl Mercer, the 17-year-old daughter of Australian Ironman legend Darren Mercer, who captured the hearts of the paddling world.
Mercer, who will return home to prepare for the Kellogg's Nutri-Grain Ironman Series Trial on August 27 and 28, provided the biggest upset of the day to beat Hawaiian paddling queen 35-year-old Kanesa Duncan Seraphin and her fellow Hawaiian, 25-year-old Candace Appleby.
For the full story go here:
http://hansonmediagroup.com.au/index.php?option=com_content&task=view&id=958&Itemid=42
For event details, go here: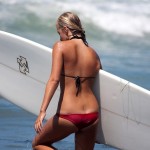 Become A Sponsor!
If you have a product or service that is a good fit for our surf community, we have opportunities for you to sponsor this blog!
Download our media kit now!