VIA – WALL STREET JOURNAL
Money and sport are a 'tough marriage', says former world surfing champion
Geoffrey Rogow
From: The Wall Street Journal
March 01, 2012 9:33AM

Matt Banting winning the Australian Open of Surfing this month. Small-wave contests are "boring", says Australian pro surfer Kieren Perrow. Picture: Brett Costello Source: The Australian
AS the sport of surfing swells, a battle is brewing between profits and waves.
Under pressure from corporate sponsors keen to sell boardshorts and other surfing paraphernalia to the mass market, surfers are turning away from monster waves off remote islands to compete in coastal cities such as New York and San Francisco, where the waters are tamer. Leading surfers in the most recent tour event in late February vied to become Australian Open Champion on Sydney's Manly beach – a playground for amateur surfers, but where waves rarely rise more than several feet high.
The shift is at odds with surfing's rugged image of men and women defying 6m waves as depicted in documentaries, novels and even given a Hollywood gloss in movie blockbusters such as the 1991 film Point Break.
While sensitive to charges the sport is selling out, professional surfers say holding competitions in relatively benign waters near big cities is a necessary change. Surfing's ability to attract the next generation of wave-riders is being challenged by the rise of other extreme sports. City events allow surfing to broaden its appeal by including skateboarding contests and musical acts such as performances by MGMT and Jimmy Eat World at last year's US Open of Surfing in California.
Money is also driving the change. Grand-prize purses are meager by the standards of professional sport, where even winning a tour event rarely brings in a paycheck of more than $US75,000, leaving most tour surfers dependent on endorsements. That frequently means showing up at events on the doorstep of sponsors' core customer base. And the most decorated surfer in history, Kelly Slater, with 30 major victories since 1991, has banked prize money of just $US3 million. The total prize money for the Pipe Masters, one of the biggest tournaments of the year, is only $US320,000.
"The sport should be about crowning champions, even if the industry is about selling boardshorts. It's a tough marriage to work out sometimes," said Hall of Famer Wayne "Rabbit" Bartholomew, the charismatic 55-year-old former World Surfing Champion immortalised in the award-winning documentary Bustin Down the Door.
And Bartholomew should know. In 1998, he helped take over the Association of Surf Professionals and transformed it into the sport's most-recognized body. By focusing on a mantra of "best surfers, best waves," he took the sport to far-flung destinations such as Bora Bora and Bali. Though an expensive and expansive endeavor, the efforts of leaders, along with the work of world-class cinematographers and photographers, had legions of fans tuning in to events online and in magazines.
Fast forward to today and the sport's big-name surfers say those early filmed thrills of 6m waves and huge barrels were a major force in driving them to the sport. Kieren Perrow, fresh off a victory in 2011's last event, Pipe Masters in Hawaii – where he shrugged off serious injuries to his heel and arm to outlast surfing legend Slater – said going back to just beach events would be "boring."
Perrow, who serves as the ASP surfers' representative and speaks on behalf of the top 32 ranked men 17 and women, said a move entirely to the cities won't happen on his watch even after New York and San Francisco joined the event calendar last year.
While some big-wave fans may be disgruntled about taking the competition to the kiddie pool, Perrow notes city events on smaller waves present a challenge to surfers' trick arsenal, called "aerial surfing."
"We are certainly involved as the ASP board has to approve all events and we're of a similar mind frame not to go too far in one way or the other," said Perrow.
The uptick in interest that stemmed from the spread of remote images and videos online was a big growth driver for firms like Billabong and Hurley – two of the sport's most recognisable brands. Billabong grew from a small clothing company founded in 1973 to a surfing giant with more than $1.7 billion in revenue last year, while Hurley grew partly out of Billabong in the US eventually to be swallowed up by sporting giant Nike in 2002.
These two companies, which jointly sponsored the Australian Open, said the decision to go to Manly stemmed from the success of the US Open at Huntington Beach, California, which …
MORE SURF ARTICLES NOW!:

http://www.theaustralian.com.au/business/wall-street-journal/money-and-sport-are-a-tough-marriage-says-former-world-surfing-champion/story-fnay3ubk-1226285864898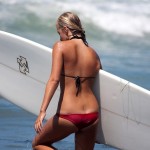 Become A Sponsor!
If you have a product or service that is a good fit for our surf community, we have opportunities for you to sponsor this blog!
Download our media kit now!