VIA – REUTERS
Mr Pipeline thinks Olympic surfing is swell idea
(Reuters) – With millions of people from Norway to Nantucket taking up surfing it is high time the sport was given a place at the Olympic Games, says revered Hawaiian surfer Gerry Lopez.
The idea of surfing for an Olympic medal has long divided the world's estimated 20 million surfers with detractors fearing it would lead to over-commercialization and erase the last vestiges of individualism in a pursuit many regard as more religion than sport.
Lopez, known as "Mr. Pipeline" for his cool head and poise while riding waves that crash over razor-sharp reef in Hawaii called the Banzai Pipeline, is an unlikely supporter of an Olympic bid.
For four decades Lopez has been regarded as surfing's Zen master and purveyor of "soul surfing", a hold out against a growing legion of professionals paid hefty sponsorship fees to adorn their wetsuits and surfboards with logos promoting everything from watches to mobile phones.
"Sure, some might say that surfing will lose its soul, but the truth is surfing never changes, just the people," the 63-year-old Lopez told Reuters.
"I support the idea of surfing in the Olympics. I mean, there's badminton, right? And that thing you do with the broom. How many people are directly involved in those around the world? Not that many, I suspect.
"I don't think it will commercialize surfing much more than it already is," Lopez added. "Lots more people surf now than in my day, that's a fact and we might as well accept it, so why not put it in the Olympics?"
Last year, the International Olympic Committee (IOC) declined to place surfing on a shortlist for consideration for the 2020 Olympic Games. Sports that made the shortlist included karate, roller sports and squash.
'SURFERS DESERVE OLYMPICS'
One of the issues for surfing as a potential Olympic sport is the problem of finding a venue in the host country which would provide the conditions necessary for the world's best surfers to strut their stuff.
Lopez, however, pointed to the growth in popularity of mechanical wave pools that could someday manufacture massive swells to rival those that pound his native Oahu.
"Surfing has become so popular around the world, it's time," says Lopez. "You meet surfers from Germany, Italy, Israel, everywhere these days.
"The art of riding waves is something that we all can enjoy, not just if you surf but also if you watch."
Despite last year's disappointment, International Surfing Association President Fernando Aguerre has vowed to continue to push for surfing in the Olympics but support from the biggest name in the sport at the moment has been mixed.
"The jury is out on that one for me," Kelly Slater, 11-times world surfing champion, said in an interview broadcast by the Association of Professional Surfing, which sanctions a world tour.
"There is a certain excitement because we all grew up watching the Olympics, so to think we could be in the Olympics is something huge," the American said…
For the full article go here:
http://www.reuters.com/article/2012/02/15/us-olympics-surfing-garcia-idUSTRE81E1GQ20120215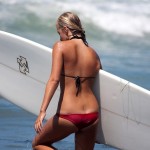 Become A Sponsor!
If you have a product or service that is a good fit for our surf community, we have opportunities for you to sponsor this blog!
Download our media kit now!