I saw this featured on NBC, what a story where everyone loses…
VIA – UT SAN DIEGO
Murder conviction stands in 'Bird Rock Bandit' case
The state Supreme Court upheld a murder conviction Monday for one of the so-called Bird Rock Bandits who was charged with killing a La Jolla surfer nearly five years ago with a single punch.
Seth Cravens is shown in this 2008 file photo with his attorney, Mary Ellen Attridge. He was reacting to a guilty verdict in the death of La Jolla surfer Emery Kauanui. Nancee E. Lewis
Emery Kauanui
Seth Cravens was convicted in 2008 of second-degree murder in the death of Emery Kauanui Jr., 24, who suffered a brain injury during a street fight in May 2007. Cravens was sentenced to 20 years to life in prison.
In August 2010, an appellate court determined there wasn't enough evidence to support the murder conviction, and reduced it to voluntary manslaughter. That decision would have cut Cravens' sentence to 16 years.
The high court's 6-1 ruling means the life sentence will stand.
"The Court of Appeal not only failed to acknowledge that the fatal blow here was a sucker punch (or that it was inflicted with enough force to knock Kauanui unconscious before he even hit the pavement), but failed as well to grapple with the evidence tending to show (Cravens') pattern of using sucker punches to his advantage," wrote Associate Justice Marvin R. Baxter in the court's majority opinion.
One justice agreed with the majority opinion but on separate grounds.
Justice Joyce L. Kennard wrote the dissent, arguing that the evidence did not show that Cravens — who is right-handed but struck the fatal blow with his left — knew that the punch would endanger Kauanui's life.
Cravens, now 26, was one of five La Jolla High School graduates charged with murder in the high-profile case, but he was the only one who went to trial.
Prosecutors argued that the young defendants — part of a loose-knit crew known as the Bird Rock Bandits — had participated in a group attack on Kauanui on May 24, 2007, outside his mother's La Jolla home.
Cravens, who had a reputation for beating and bullying people in the La Jolla area, threw the devastating blow. He struck Kauanui once in his jaw, causing him to fall and strike his head on the pavement, fracturing his skull.
He died in a hospital four days later.
District Attorney Bonnie Dumanis said in a news release that the high court's ruling holds a murderer accountable and restores justice for the victim.
"The Attorney General's Office did an outstanding job arguing this case to the Supreme Court and our office is grateful for their work to uphold Seth Cravens' conviction."
Mary Ellen Attridge, a deputy alternate public defender who represented Cravens during the trial, said she was disappointed in the court's ruling and there may be grounds for the appellate attorney to ask for another hearing.
"The court made some mistakes…"
For the full article go here:
http://www.utsandiego.com/news/2012/jan/30/state-supreme-court-rules-bird-rock-bandit/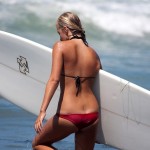 Become A Sponsor!
If you have a product or service that is a good fit for our surf community, we have opportunities for you to sponsor this blog!
Download our media kit now!