VIA – SPACE REF
NASA MODIS Image of the Day: February 12, 2012 – Tropical Cyclone Jasmine (10P) in the southern Pacific Ocean
After raking Vanuatu with hurricane-force winds, Tropical Cyclone Jasmine remained well organized as it travelled southeastward over the South Pacific Ocean.
The Moderate Resolution Imaging Spectroradiometer (MODIS) instrument aboard NASA's Aqua satellite captured this spectacular image of Jasmine sporting a classical cyclone shape on February 10 at 02:10 UTC (Feb 9 at 9:10 p.
m. EST). The distinct eye has expanded, and now measures about 60 nautical miles (69 miles) in diameter. At 0900 UTC (4 a.m. EST) on that same day, Cyclone Jasmine was reported to have maintained a Category One status on the Saffir-Simpson Hurricane Wind Scale, with maximum sustained winds near 75 knots (86 mph/~139 km/h). At that time, Jasmine was located 550 miles south-southwest of Nadi, Fiji, near 25.8 South and 173.3 East. At 2100 UTC (4 p.m. EST) on February 11, the Joint Typhoon Warning Center (JTWC) reported that Jasmine?s maximum sustained winds had dropped to 45 knots (52 mph/83 km/h) and …
MORE NOW!  http://www.spaceref.com/news/viewsr.html?pid=39868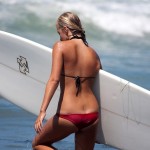 Become A Sponsor!
If you have a product or service that is a good fit for our surf community, we have opportunities for you to sponsor this blog!
Download our media kit now!