VIA – ESPN
Neck Beard gets a trim
By Jake Howard | ESPN.com Updated: July 9, 2012, 5:39 PM ET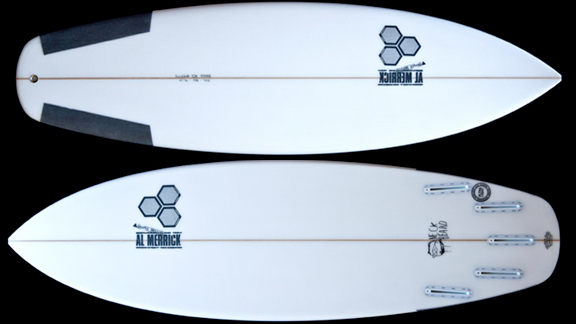 Courtesy Channel IslandsWith a new, clean shaven tail outline and a five-fin option, Dane Reynold's new Neck Beard an ideal for the summer surf.
Channel Islands has released a new version of Dane Reynolds' now famous Neck Beard model. Last year, when the shape premiered, it was accompanied by a Marine Layer Prod. video of Reynolds taking a hacksaw to his board, and thus the "chop tail" was born. And while radical surfing requires radical departures from convention, for this year's model Reynolds and the designers at Channel Islands smoothed out the tail block, rounding the corners, giving the board a softer, more inviting outline and more responsive feel. They've also added a couple of fin boxes, so you can go with a quad or more traditional tri setup.
"The 2012 Neckbeard tail is taken directly from Dane's hand-drawn template," reads the blurb on CISurfboards.com, which is somewhat disconcerting, given the rugged detail of Reynolds' illustrations for his t-shirt line, Summer Teeth (also the title of alt country band Wilco's 1999 studio album). But not to fear, the Neck Beard comes away with a clean shave.
On a recent trip to the Channel Islands factory in Santa Barbara — a marvel of surfboard production if ever there was one — Travis Lee, who handles all of the team boards, along with a variety of other marketing and production-related responsibilities, directed me towards a stack of beat-to-hell, scribbled upon boards. A consortium of Reynolds' quivers from the last year or two, there was that original chop tail, the first incarnation of Dumpster Diver (originally shaped for Rob Machado), and a bunch of other well-used, well-appreciated blocks of foam. It was immediately obvious how much experimentation goes into Reynolds's boards. No two were the same. Nose and tail volumes, width, length, etc, etc, etc, no dimension or outline's been left untested.
As it was explained to me (and I wholeheartedly agree), because what Reynolds is trying to do on a surfboard is different than everybody else, he puts different demands on his boards. Pick one up and you feel how much more foam it has compared to the boards of somebody like Kelly Slater or Mick Fanning, that surf with more precision or calculation … as opposed to reckless abandon. For example, take the classic roundhouse cutback, whereas Slater or Fanning ride the arc of the rail around into a rebound off the whitewater (with much success, to be sure), Reynolds buries not only his whole rail, but his whole board underwater. "This means you need a board that can ride and recover underwater," which if you think about it, is a pretty revolutionary…
For the full article go here:
http://espn.go.com/action/surfing/story/_/id/8144211/channel-islands-releases-new-dane-reynolds-neck-beard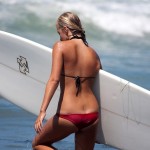 Become A Sponsor!
If you have a product or service that is a good fit for our surf community, we have opportunities for you to sponsor this blog!
Download our media kit now!