VIA – SANTA CRUZ SENTINEL
Neil Pearlberg, The Perfect Write: Santa Cruz native Nate Lawrence named Transworld Surf's top photographer
Posted:   02/05/2012 01:30:29 AM PST
Nate Lawrence's epic and expansive surf photography career started with a cold.
Like most kids growing up here, Lawrence enjoyed skateboarding and surfing, and liked mixing the two with photography. He trained in the craft while at Harbor High through a Santa Cruz County Regional Occupational Program ROP and dabbled with shooting pictures of friends, including then up-and-coming professional skateboarder Emmanuel Guzman.
But Lawrence's immersion into surf photography started out with a huge winter swell in 2000. Unable to surf because he was sick, he took his camera down to the harbor to film his friends, capturing them in his lens as they hurtled inside the fast moving barrels, only a few feet from the harbor wall upon which he was perilously perched.
"I will never forget, about 10 years ago, this young kid walking up and handing over some photos of me surfing. I stared at them and immediately knew they were something special," said Josh Mulcoy, a respected Santa Cruz surfer. "Nate has an undying passion for his craft, and it has always amazed me how each individual photo of his is simply a true piece of art."
Mulcoy isn't the only one who holds Lawrence's photos in high esteem.
Lawrence, 29, is regarded as one of the world's premiere surf photographers, and 2011 may be considered his most successful year yet. For starters, Lawrence garnered the top spot in Transworld Surf's "exposure meter," which calculates the most prolifically published
surf photographer from all the top industry magazines. He also holds the prestigious and, for many, the enviable position of senior photographer for Surfing magazine, traveling the world with his Canon to the most exotic surfing locations in order to photograph the world's top surfers.
Lawrence's life as a professional photographer began 16, when he was a student at Harbor. He would photograph his good friend Guzman and then sell the photos to Bill's Wheels Skate Shop.
With digital photography still in its infancy, the cost of the development of film was more than Lawrence could afford. So, he took an apprentice job with Bay Photo Lab. There, he developed his own film by slipping it in among customers' photos.
In 2003, shortly after the harbor surf session, Lawrence's surf career took of faster than some of the athletes he was shooting. It began with a trip with Santa Cruz surf professionals Peter Mel, and Adam Replogle to Lincoln City, Ore., to photograph the first attempt to tow into the 30-foot waves at shallow and dangerous Nelscott Reef. Both Surfer and Surfing were aware of the trio's adventure and subsequent score of the previously unridden wave. On the journey back to Santa Cruz, they began a bidding war over Lawrence's photographs.
"I was the one driving, Peter and Adam were still laughing about their session, and at the same time my phone was blowing up with calls from well-known magazine editors that a then-inexperienced 20-year-old kid was scared to talk to," Lawrence recalled.
"I turned to Pete and asked him, What the hell am I going to do?'"
At that time, Evan Slater was working as the Editor in Chief at Surfing. Mel and Replogle had surfed with Slater, and because of their relationship on the water, Lawrence chose to take his photography to Surfing. That is where he has remained for the past eight years.
"It was a good choice," said Lawrence, who had a photo of local surfer Matt Rockhold chosen for the cover of Surfer later that year. "Evan had confidence in my work, and he understood that it took more than just technology to capture a good photo. However, I feel that I must also give credit to photo editor Pete Taras, who always works his magic that makes each photo look unique."
Lawrence has photographed the worlds spectacular waves, and the most elite athletes who ride them. Some of his favorites include Dane Reynolds, John John Florence, Dan Malloy and Sophia Mulanovich, as well as Santa Cruz locals Nat Young and Bud Freitas.
As much as he is living his dream, Lawrence said he would enjoy adding more to his repertoire of photography. He said he would like shooting for Conde Nast travel magazine or some of Hollywood's elite, just because, he said, "They just love being in front of the camera." In fact, the two people he would most like to photograph, alive or dead, are Johnny Cash and a post-presidency Barack Obama.
When Lawrence is not spanning the globe, his wife and their two young children split time between their homes in Santa Cruz and Bali. His photography is sought by companies such as Nike and Rip Curl, and by surf filmmakers such as Kai Neville and Thomas Campbell. In 2008, Campbell, a Santa Cruz filmmaker, invited Lawrence and his camera along on an Indonesian boat trip with Malloy and Mulanovich during the production of his movie "The Present."
Said Campbell, "I am sort of a hack when…"
For the full story and all the photos go here:
http://www.santacruzsentinel.com/sports/ci_19897590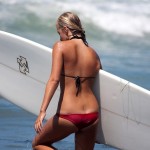 Become A Sponsor!
If you have a product or service that is a good fit for our surf community, we have opportunities for you to sponsor this blog!
Download our media kit now!