VIA – WALL STREET JOURNAL
ASIA NEWS
OCTOBER 1, 2011, 1:02 A.M. ET
New Typhoon Lashes Philippines
Associated Press
Photo: The Philippine Air Force provided this photo showing house and tree tops just above flood waters on Friday in Bulacan province, north of Manila.
MANILA, Philippines—The second typhoon in a week battered the rain-soaked northern Philippines on Saturday, adding misery to thousands of people, some of whom still perched on rooftops while several other Asian nations also reeled from flooding.
Typhoon Nalgae slammed ashore midmorning Saturday south of northeastern Palanan Bay in Isabela province with winds of 100 miles (160 kilometers) per hour and dangerous gusts of 121 mph (195 kph).
It was making a similar path across the saturated Luzon Island as Typhoon Nesat, which earlier in the week killed at least 50 people, left 31 missing and thousands stranded and sent huge waves that breached a seawall in Manila Bay. Nesat also pummeled southern China and was downgraded to a tropical storm just before churning into northern Vietnam on Friday afternoon, where flood warnings were issued and 20,000 people evacuated.
In the Philippines, nearly 400,000 hunkered down in evacuation centers and in homes of relatives and friends along the new typhoon's path with heavy rainfall of about an inch (25 millimeters) an hour within the storm's 340-mile (630-kilometer) diameter that put most of the northern provinces including the capital on alert.
Isabela authorities earlier shut down electricity in the province to prevent accidents from falling power pylons and snapped cables.
The wind gusts toppled trees and blew away tin roofs of some houses in Isabela's provincial capital of Ilagan. In nearby Luna township, a bus with about 30 passengers fell on its side on a rice field because of the strong winds, but no one was seriously injured, police said.
"The ground is still supersaturated and it cannot absorb more water," said Graciano Yumul, the Philippines' weather bureau chief. "This will just flow down to rivers and towns, and there is a big possibility that landslides, flash flooding and flooding could occur."
He urged residents still refusing to leave their homes despite the floods to evacuate because the water was going to rise in the coming hours as Typhoon Nalgae dumped more rain.
At least five towns in the rice-growing province of Bulacan and Pampanga, north of Manila, remained submerged three days after Typhoon Nesat had moved on.
"We have nowhere to go," Celenia Espino of Calumpit township said from her home, which was filled with knee-deep murky water. "We have no means of transportation out of here."
She was one of the thousands who sought shelter on rooftops with no food, water and electricity, while other residents waded in chest-deep water down main roads to reach dry land.
In the past four months, prolonged monsoon flooding, typhoon and storms across Southeast Asia, China, Japan and South Asia has left more than 600 people dead or missing.
In India alone, the damage is estimated to be $1 billion, with the worst-hit state of Orissa accounting for as much as $726 million.
For the full article go here:
http://online.wsj.com/article/SB10001424052970204226204576603901236085130.html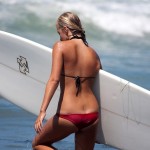 Become A Sponsor!
If you have a product or service that is a good fit for our surf community, we have opportunities for you to sponsor this blog!
Download our media kit now!