VIA – STUFF NZ
Surf's up at the Mount
MICHAEL FORBES AND MICHELLE COOKE
Photo: BRUCE MERCER/Fairfax NZ – Salvage vessel Awanuia pumping oil from the Rena.
Beachgoers are in two minds about dipping their toes in the oil-stained waters of Mt Maunganui, despite it being declared fit for swimming.
Maritime New Zealand clarified its position yesterday after 24 hours of mixed messages as to whether people could swim off the 3km of beach between the Mount and Tay St that is open to the public.
National on-scene commander Alex van Wijngaarden said people could "use their own commonsense" and do what they wanted in that area, provided they did not enter the exclusion zone around the Rena, which has been reduced from 45km to about 20km.
Local Margaret Millar said she would go for her first swim since last summer today but would not risk taking her dog to the beach in case he licked up any oil. Papamoa resident Bryce Brown said he would wait "a bit longer" before jumping in the water and definitely would not let his kids swim any time soon.
But he trusted the official's advice and said it was good they were letting people decide for themselves.
"They wouldn't leave it up to people if they knew it was dangerous."
Aucklander Ian Dawson and his son Corey got their surfboards out last night when they heard the water had been given the all-clear.


"To me, it is just a commonsense thing. If I could see or smell oil and other crap floating around out there, then I wouldn't go out. But it looks good out there."
Dawson said that he expected to find black beaches covered in "all sorts of mess" and was pleasantly surprised to find that was not the case.
Van Wijngaarden said small amounts of residual oil were still washing ashore from the stricken cargo ship Rena, which ran around on Astrolabe reef – off the coast of Tauranga – on October 5.
Clean-up crews deployed booms to stop oil entering the Maketu estuary yesterday and focused their efforts on Waihau Bay, about 200km from Tauranga.
Volunteer manager Pim de Monchy said there was little point cleaning below the sand surface, given the possibility of further significant contamination.
Spirits were still high, despite there not being an end in sight, she said.
"Initially there was frustration – and of course anger that this happened. Two weeks on there's still plenty of `how and why' but also a reluctant acceptance and, most significantly, a determination to fix it."
Flights over the vessel yesterday suggested no new oil had escaped but oil sheens were still visible in the waters off Papamoa Beach.
Oil was also found below the surface of the sand at Papamoa, van Wijngaarden said. As of yesterday afternoon, a dozen salvors transferring oil from the Rena on to the bunker barge Awanuia had had two days of continuous pumping.
Salvage Unit manager Bruce Anderson said 256 tonnes of oil had been pumped off the Rena.
There were 1673 tonnes on board when she ran around and about 300 tonnes of that spilled.
Rough seas halted the oil removal early last week but salvors did not abandon ship when a 7.3 magnitude earthquake in the Kermadec Islands had New Zealand on tsumani alert for more than an hour yesterday morning
Anderson said the heavy-duty tug Go Canopus, which is steadier in rough seas than the Awanuia, is in Tauranga and would be used if heavy swells prevented the Awanuia getting alongside the Rena.
For the full story go here:
http://www.stuff.co.nz/sunday-news/news/5835870/Surfs-up-at-the-Mount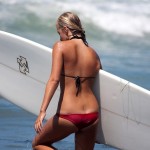 Become A Sponsor!
If you have a product or service that is a good fit for our surf community, we have opportunities for you to sponsor this blog!
Download our media kit now!