VIA – PSFK
Nike 6.0 Concept Combines Surfing With Environmental Protection


By Yi Chen on August 24, 2011
Entrepreneur Dann Petty has put together a creative concept for Nike 6.0 called Surfca.li. The project aims to give surfers the chance to hit top surfing spots along the Californian coast while simultaneously learning how they can help protect the beaches and keep the ocean beautiful. The 12-day surf trip will begin in San Francisco and end in San Diego. Fans are able to follow the surfers via the blog, which is integrated with digital media like Twitter feeds, videos and photos.
Nike 6.0 creates footwear and apparel for actions sports specifically: surfing, skiing, BMX biking, wake boarding etc. The brand targets the 'creativity of youth' and sponsors events to support the younger generation of action sports enthusiasts.
For the original story go here:
http://www.psfk.com/wp-content/uploads/2011/08/Surfcali_Dann_Petty.jpg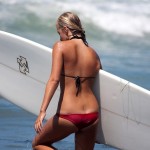 Become A Sponsor!
If you have a product or service that is a good fit for our surf community, we have opportunities for you to sponsor this blog!
Download our media kit now!