VIA – CIVIL BEAT
No Surfboard for Obama

By Chad Blair 10/20/2011
We don't know whether President Obama will go bodysurfing at Sandy Beach during APEC.
But it's a sure thing he won't be riding a surfboard given to him as a gift by the Hawaii Legislature.
A plan to raise money from lawmakers and staff to purchase a $750 board for the president featuring the Hawaii state seal, among other things, was nixed Wednesday.
Here's what happened.
Senate Majority Leader Brickwood Galuteria and House Majority Floor Leader Cindy Evans, both Democrats, sent a letter via email Wednesday asking their colleagues and staff in the state House and Senate for a $10 donation.
They said the board would be printed with the names of APEC, the Hawaii Convention Center and the 26th Legislature, along with the state seal.
"If you are not aware, the Hawaii Convention Center often presents this type of gift to those who bring a convention," the letter explained. Obama brought the Asia-Pacific Economic Cooperation summit to Honolulu. It will bring Obama and 20 other world leaders and numerous business leaders to the city in early November.
The letter noted that House Speaker Calvin Say and Senate President Shan Tsutsui advised that the 10 bucks had to come from legislators' personal funds or legislative allowance.
They asked for the money by Oct. 27.
But less than an hour and a half later, they withdrew their request.
Evans could not be reached by Civil Beat, but Galuteria called Thursday and explained, "We made a mistake. It would have been a nice gift, but we had to retract it. We meant well."
The problem, Sen. Galuteria told Civil Beat, was that legislative allowances cannot be used to buy gifts.
The Legislature has been under increased scrutiny from the Hawaii State Ethics Commission over gifts to lawmakers.
The follow-up email to all senators and representatives from Tommie Suganuma, an aide to Rep. Evans, apologized for the request.
"My sincerest and deepest apologies regarding the letter just emailed to everyone on the APEC gift. First, I want to apologize to Senator Brickwood Galuteria and Senate President Shan Tsutsui. It was not my intention to use the wrong protocol. There was also a misunderstanding on our correspondence received from Speaker Say, and in reading it again, he did say he was not speaking on your behalf.
"Going forward, the Senate will no longer have any involvement with the gift project for APEC. Please disregard any and all correspondence sent to you prior to this email."
For the original post go here:
http://www.civilbeat.com/articles/2011/10/20/13378-no-surfboard-for-obama/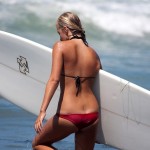 Become A Sponsor!
If you have a product or service that is a good fit for our surf community, we have opportunities for you to sponsor this blog!
Download our media kit now!